Title: A Triple Knot
Author: Emma Campion
Format: ARC
Publisher: Broadway Books
Publish Date: July 8, 2014
Source:
TLC Book Tours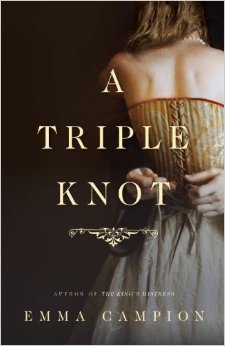 What's the Story?:
Synopsis: "Joan of Kent, the renowned beauty and niece of King Edward III, seems blessed with a life of royal privilege until her father is executed for treason and she becomes a ward of the king, living amongst those who deem her the daughter of a traitor. Joan begins to understand the brutal constraints and dangers inherent in being of royal blood. There is one at court who loves her, but his love proves the greatest threat of all.
As an impetuous teenager, she escapes into a clandestine marriage in a bid for freedom, then must hide it for nearly a decade, as her guardians marry her off to another man. After her first husband's death, Joan—now a mother of four—enters into another scandalous relationship, this time with the heir to the British throne, Prince Edward, hero of Crécy and Poitiers, who has loved her all along. But his devotion comes at a terrible price. Haunted by nightmares of her father's execution and the ruthlessness of her royal kin, Joan must reconcile her passion for the crown prince with her own conscience.
"
My Two Cents:
"A Triple Knot" is a historical fiction look at Joan of Kent, who I did not know anything about before reading this book. One thing that I love about historical fiction (and I am sure that I have mentioned this over and over before) is that it is always fun to learn something new when you are reading a good story. This book definitely fit that bill for me!

Joan of Kent was fascinating and I really enjoyed watching how Campion brought her to life. Historians don't really know a lot about this woman but I thought it was really interesting how Campion was able to sort of "fill in the blanks," if you will, to create her world. You definitely get to see court life very clearly here. It was really interesting to me to see how much of the outside world that was cut or at least set apart from Joan's life (the plague was going on but didn't really appear or effect much in the book). There were also a couple other big events that are sort of glossed over, which I thought was an interesting choice (Joan's children are very much glossed over).

Joan's story often reads like a soap opera in a lot of places. There are secret marriages and a lot of alliances both made and broken. At first, it was really interesting to read about Joan's trials and tribulations but at some point, it started becoming sort of repetitive. Unfortunately, when writing about historical figures, you don't have a lot of room to cut out some of the mistakes (and Joan made many in her romantic life or at least she made decisions that caused issues if not mistakes).

Overall, I found this book to be interesting but wanted a little more detail!
Follow the Rest of the Tour:
Monday, June 30th:
Broken Teepee
Monday, July 7th:
Fiction Addict
Tuesday, July 8th:
Kritter's Ramblings
Wednesday, July 9th:
Peeking Between the Pages
Thursday, July 10th:
A Bookish Affair
Friday, July 11th:
Svetlana's Reads and Views
Monday, July 14th:
Book Addict Katie
Tuesday, July 15th:
From L.A. to LA
Wednesday, July 16th:
No More Grumpy Bookseller
Thursday, July 17th:
Unabridged Chick
Friday, July 18th:
The Most Happy Reader
Monday, July 21st:
Bibliophilia, Please
Tuesday, July 22nd:
Time 2 Read
Wednesday, July 23rd:
Ageless Pages Reviews
Thursday, July 24th:
Historical Fiction Notebook
Monday, July 28th:
Literally Jen
Wednesday, July 30th:
100 Pages a Day…. Stephanie's Book Reviews
TBD:
Passages to the Past
- author interview
TBD:
Daily Mayo
TBD:
Sharon's Garden of Book Reviews