Title: My Last Kiss
Author: Bethany Neal
Format: ARC
Publisher: Farrar, Straus, and Giroux
Publish Date: June 10, 2014
Source:
BookSparks Summer Reading Challenge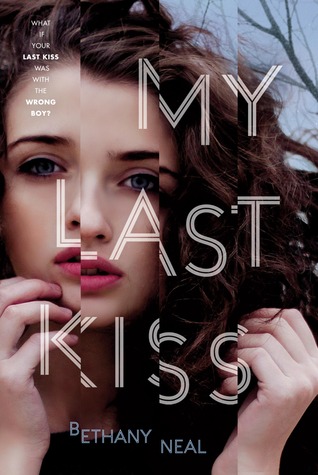 What's the Story?:
From Goodreads.com: "
What if your last kiss was with the wrong boy?

Cassidy Haines remembers her first kiss vividly. It was on the old covered bridge the summer before her freshman year with her boyfriend of three years, Ethan Keys. But her last kiss--the one she shared with someone at her seventeenth birthday party the night she died--is a blur. Cassidy is trapped in the living world, not only mourning the loss of her human body, but left with the grim suspicion that her untimely death wasn't a suicide as everyone assumes. She can't remember anything from the weeks leading up to her birthday and she's worried that she may have betrayed her boyfriend.

If Cassidy is to uncover the truth about that fateful night and make amends with the only boy she'll ever love, she must face her past and all the decisions she made--good and bad--that led to her last kiss.

Bethany Neal's suspenseful debut novel is about the power of first love and the haunting lies that threaten to tear it apart."
My Two Cents:
In "My Last Kiss," Cassidy dies at her birthday party. The circumstances are mysterious and no one is really sure what happens. Cassidy doesn't understand how she died and as a ghost, it's up to her to figure out what happened. The police rule it as a open and shut case of suicide but Cassidy knows better even if she can't put her finger on it as to why she knows that didn't happen. She can't remember and nothing is making sense. She needs to figure out what happened to her before she is allowed to go to the great beyond. Her beloved boyfriend, Ethan, is still able to see her and together they hope that they can find out what happened so that Cassidy can have her peace. This is a good YA mystery with a lot of paranormal activity. I was a little unsure of the premise but it really worked out and I enjoyed this light read!

There were a lot of twists and turns in this book. Any time there is a mystery in a book, I love being able to not figure out what happened until the very end. You definitely get that in this book as Neal leads the readers astray a lot of different times. Cassidy is able to follow her circle of friends, even if she can only communicate with Ethan and she finds out that a lot of them were hiding secrets too. Cassidy was hiding secrets as well, such as cheating on Ethan with outcast Caleb, and she thinks that might have been why she died.

The characters in the book weren't exactly likeable except for Ethan and Cassidy's friend, Aimee. Even Cassidy herself did some things that made her unlikeable but you can still sympathize for her situation. I thought it was really cool how Neal was able to give Cassidy that sort of gray area. It definitely made for a more interesting story.

Overall, I really enjoyed this book!