Title: Jex Malone
Authors: C.L. Gaber and V.C. Stanley
Format: Hardcover
Publisher: Merit Press
Publish Date: June 18, 2014
Source: I received a copy from the publisher; however, this did not affect my review.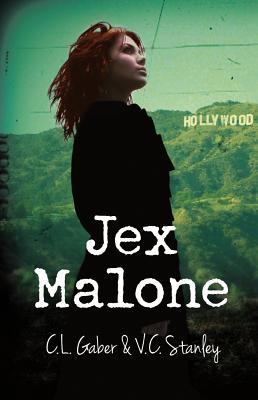 What's the Story?:
From Goodreads.com: "
Bored out of her mind during a summer with her police detective father in Las Vegas, Jessica (aka "Jex") Malone starts doing what she does best--snooping. When she meets three new friends who share her passion for crime, from the geek to the fashionista, suddenly, the stifling desert days don't seem so long.

Her dad is never around, just like when her parents were married. But Jex's crew, the Drew-Ids, take the pledge of eternal secrecy and then get down to the good stuff--digging through the cold-case files in Dad's home office.

One of them, the thirteen-year-old case of Patty Matthews, is still a mystery. Finding Patty, who vanished into thin air, became such an obsession for Jex's father that it destroyed the Malones' marriage. So not only is this a big deal, it's personal.

Jex is determined to find out what really happened, and her excitement is contagious. Soon her friends are all on board and so is the missing girl's brother, the hunky Cooper Matthews.

But as they dig up more and more troubling information--more than the cops ever did--they also get the clear message that someone out there wants to prevent the truth from coming out. That somebody is also prepared to do anything, absolutely anything, to prevent it."
My Two Cents:
Jessica "Jex" Malone is not happy about being shipped off to her dad's house for the summer. After her parents' messy divorce, the judge orders her to live with her father, a police detective, for the summer. Jex is sure that it's going to be horrible and boring. Luckily, she meets new friends and being as nosy and curious as she is, she and her new friends decide to see if they can solve one of her father's cold cases. Hey, at least it's something to do!

This was a really fun read and I think it will appeal to a lot of YA readers. This book is very much in the vein of a Nancy Drew novel - there is enough action to keep you excited and into the book but the subject matter is still pretty tame. I loved the mystery in the book and I loved how the authors were able to keep the readers guessing about what happened with the girl whose disappearance Jex and her friends decide to take on.

The other thing that I really liked about the book was Jex's voice in the story. There is a lot going on in her life besides just solving the disappearance. She is trying to figure out how to have a relationship with her father as she feels that he was mostly an absentee father and may have only wanted her to live with him for the summer to spite Jex's mother. Jex has a super smart voice that was very original too! I loved following her adventures in the book.

I flew through this book! The characters were good and I loved the twists and turns. This was a thoroughly fun read!