Title: The Fortune Hunter
Author: Daisy Goodwin
Format: ARC
Publisher: St. Martin's Press
Publish Date: July 29, 2014
Source: I received a copy from the publisher; however, this did not affect my review.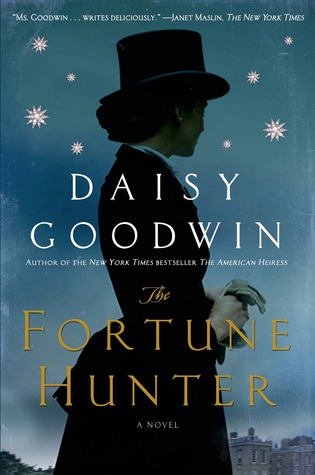 What's the Story?:
From Goodreads.com: "
In 1875, Sisi, the Empress of Austria is the woman that every man desires and every woman envies.

Beautiful, athletic and intelligent, Sisi has everything - except happiness. Bored with the stultifying etiquette of the Hapsburg Court and her dutiful but unexciting husband, Franz Joseph, Sisi comes to England to hunt. She comes looking for excitement and she finds it in the dashing form of Captain Bay Middleton, the only man in Europe who can outride her. Ten years younger than her and engaged to the rich and devoted Charlotte, Bay has everything to lose by falling for a woman who can never be his. But Bay and the Empress are as reckless as each other, and their mutual attraction is a force that cannot be denied."
My Two Cents:
In "The Fortune Hunter," Charlotte Baird knows that she has her life planned out for her. Heir to an innumerable fortune, she knows that she can have any man she would like (and many come begging at her door but she fears that it is mostly due to her fortune). So when Bay Middleton (yes, if you are wondering - he is indeed related to the current Duchess of Cambridge distantly) enters Charlotte's life and he seems to truly be interested in her and not her money, Charlotte falls for him hard. There plan to be married until Sisi, the infamous Empress of Austria comes to England. This is a great historical fiction with lots of big personalities and courtly intrigue. I ate it up!

I loved Charlotte's character. She is very much her own woman and seems to understand that with or without a man, she can successfully live her own life due to her great wealth. She gets deeply into photography and art and loves making it even when others consider it to not be a worthwhile passion for a lady of good breeding.

I also really loved Sisi. Sisi is made up of the stuff of legends and was so much fun to read about. She apparently had hair that went down to the floor and had to sleep with it tied to the ceiling in order to keep it untangled. She also had a penchant for using raw (yes, RAW) veal steaks on her face in order to keep it looking fresh (so gross but sooooo intriguing). If tabloids existed in her day, Sisi would have made the front covers of all of them.

Bay is pulled in between these two forces of nature. He was a famous horseman in his day and was well-renowned for his skill. He could have just about any woman in the world and he finds two of the most intriguing bachelorettes. It was really interesting to me to read about how he was pulled between them and what he liked about each of these totally different women!

This was a great book to get lost in. The characters are vivid. The historical detail is fantastic. The drama and action throughout the book kept me thoroughly entertained!
Follow Daisy Online:
Twitter: https://twitter.com/daisygoodwinuk