Title: Girlboss
Author: Sophia Amoruso
Format: Hardcover
Publisher: Portfolio
Publish Date: May 6, 2014
Source: Library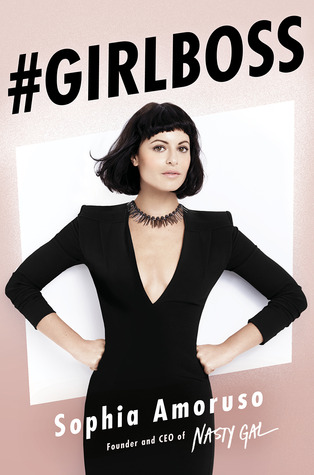 What's the Story?:
From Goodreads.com: "
At seventeen, Sophia Amoruso decided to forgo continuing education to pursue a life of hitchhiking, dumpster diving, and petty thievery. Now, at twenty-nine, she is the Founder, CEO, and Creative Director of Nasty Gal, a $100+ million e-tailer that draws A-list publicity and rabid fans for its leading-edge fashion and provocative online persona. Her story is extraordinary—and only part of the appeal of #GIRLBOSS.

This aspirational book doesn't patronize young women the way many business experts do. Amoruso shows readers how to channel their passion and hard work, while keeping their insecurities from getting in the way. She offers straight talk about making your voice heard and doing meaningful work.

She's proof that you can be a huge success without giving up your spirit of adventure or distinctive style. As she writes, "I have three pieces of advice I want you to remember: Don't ever grow up. Don't become a bore. Don't let The Man get to you. OK? Cool. Then let's do this.""
My Two Cents:
"#GIRLBOSS" is a memoir of sorts by Sophia Amoruso, who is the CEO and founder of Nasty Gal. Nasty Gal, for those of you who are not familiar, is a online retailer that sells vintage clothes and is hugely successful. Told by Amoruso herself, the story is partially the story of how she got to where she is all prior to the age of 30 (super impressive, no?). It's also it meant to be a book to encourage other young women to go for what they want even if it seems like it's not reachable.

I found the book to be really inspiring. I always like reading about success stories of those who are no too much older than I am. The book is written in a fairly informal way and to some degree, it feels as if one of your friends is giving you some heart-to-heart business advice. I liked that style for this particular book because it made it feel a little bit friendlier to me. There is a lot of good advice in this book; however, there is also some advice that does feel a little bit like the same old, same old. That being said, sometimes it really is the same old, same old that will get you to the place that you want to be. Overall, I thought those was a pretty good read especially for those who want some advice but aren't necessarily into delving into more traditional business literature.