Title: The Paris Wife
Author: Paula McLain
Format: Hardcover
Publisher: Ballantine Books
Publish Date: February 27, 2011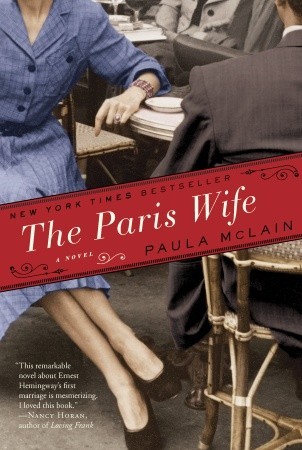 What's the Story?:
From Goodreads.com: "Chicago, 1920: Hadley Richardson is a quiet twenty-eight-year-old who has all but given up on love and happiness—until she meets Ernest Hemingway and her life changes forever. Following a whirlwind courtship and wedding, the pair set sail for Paris, where they become the golden couple in a lively and volatile group—the fabled "Lost Generation"—that includes Gertrude Stein, Ezra Pound, and F. Scott and Zelda Fitzgerald.

Though deeply in love, the Hemingways are ill-prepared for the hard-drinking and fast-living life of Jazz Age Paris, which hardly values traditional notions of family and monogamy. Surrounded by beautiful women and competing egos, Ernest struggles to find the voice that will earn him a place in history, pouring all the richness and intensity of his life with Hadley and their circle of friends into the novel that will become The Sun Also Rises. Hadley, meanwhile, strives to hold on to her sense of self as the demands of life with Ernest grow costly and her roles as wife, friend, and muse become more challenging. Despite their extraordinary bond, they eventually find themselves facing the ultimate crisis of their marriage—a deception that will lead to the unraveling of everything they've fought so hard for."
My Two Cents:
"The Paris Wife" is one of those books that I can't believe it took me as long as it did to get around to reading it. After reading Ernest Hemingway's "A Moveable Feast" a couple years ago, I fell in love with Hemingway's Paris and by extension Hemingway's Hadley. Sidebar: I fell in love with the name Hadley so much so that one of my daughters is named Hadley. I wanted to read "The Paris Wife" right after I read "A Moveable Feast," however, I never got around to it until now. I can see why so many people enjoyed this book!

Now, I feel like I might be the only historical fiction lover left that hadn't read this book. This book did enormously well a couple years ago and is still very popular to discuss. McLain pulls us in to Hadley Richardson's life and makes her feel like an intimate friend. She is utterly engaging and interesting. Hadley Richardson was Ernest Hemingway's first wife and we can see how hopeful their relationship is in the beginning. Hadley was by Hemingway's side as he is a struggling writer trying to get published. At first, their marriage seems very happy and very much them-against-the-world and I loved reading about their relationship. Through Hadley's eyes, we see the marriage begin to dissolve. The story covers their courtship and marriage and their subsequent separation. I really wish that would have covered more as Hadley has a very authentic and interesting voice in this book. We only get a glimpse of her later years.

I really like that the book is told from the perspective of Hadley herself. I thought that the first person point of view really added a lot to the story arc as it allowed me to put myself in her shoes and see the things that she was seeing. I really enjoyed this book!