Title: The Royal We
Authors: Heather Cocks and Jessica Morgan
Format: Hardcover
Publisher: Grand Central Publishing
Publish Date: April 7, 2015
Source: I received a copy from the publisher; however, this did not affect my review.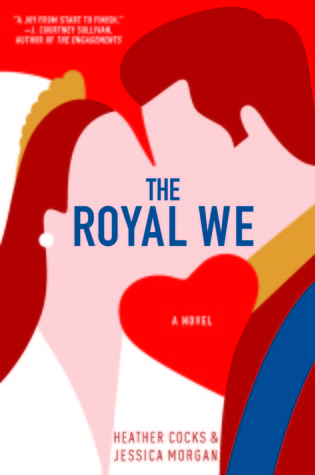 From Goodreads.com: "

American Rebecca Porter was never one for fairy tales. Her twin sister, Lacey, has always been the romantic who fantasized about glamour and royalty, fame and fortune. Yet it's Bex who seeks adventure at Oxford and finds herself living down the hall from Prince Nicholas, Great Britain's future king. And when Bex can't resist falling for Nick, the person behind the prince, it propels her into a world she did not expect to inhabit, under a spotlight she is not prepared to face.
Dating Nick immerses Bex in ritzy society, dazzling ski trips, and dinners at Kensington Palace with him and his charming, troublesome brother, Freddie. But the relationship also comes with unimaginable baggage: hysterical tabloids, Nick's sparkling and far more suitable ex-girlfriends, and a royal family whose private life is much thornier and more tragic than anyone on the outside knows. The pressures are almost too much to bear, as Bex struggles to reconcile the man she loves with the monarch he's fated to become.
Which is how she gets into trouble.
Now, on the eve of the wedding of the century, Bex is faced with whether everything she's sacrificed for love-her career, her home, her family, maybe even herself-will have been for nothing."
"The Royal We" is the story of Rebecca, an all-American girl, who moves to England in order to study art at Oxford (yeah, that Oxford). While she's there she meets the heir to the British throne, Nick, and they end up falling in love. The book follows the very high ups and the very low downs of their tumultuous relationship. Any relationship takes work but a relationship with one of the future king of England adds a whole 'nother level of craziness and stress. This was such a fun read! For my fellow royal watchers, it has a lot of shades of Will and Kate (yeah, that Will and Kate). Even if you aren't a royal watcher but you like romances with lots of twists and turns, you will find a lot to love about this book! This was a great book to just sit back and relax with.
The book is told from the perspective of Bex, which I really liked. It allowed me to really get close to the story and have a front row seat for everything that was going on. Bex is a thoroughly endearing character. She is a very normal girl that finds herself in the middle of something extraordinary. This book has a little bit of everything. There is a love story but there's also a undercurrent of drama (love and maintaining a relationship with a prince is not easy).
When the book opens, it's almost the morning of the royal wedding between Rebecca and her prince. The narrative goes back-and-forth between when Rebecca's first arrived in England to next to some key events in the relationship between Bex and Nick. That's definitely kept me on my toes and I loved being surprised by the ending. This book was so much fun!