Title: The French House
Author: Don Wallace
Format: Paperback
Publisher: Sourcebooks
Publish Date: June 3, 2014
Source: I received a copy from the author; however, this did not affect my review.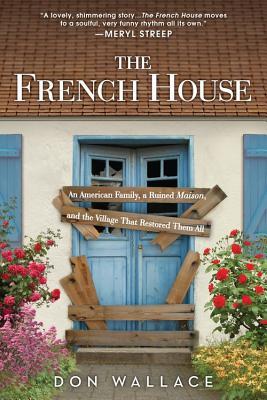 What's the Story?:
From Goodreads.com: "
When Francophiles Don and Mindy Wallace received an offer for a house on a tiny French island, they jumped at the chance, buying it almost sight unseen. What they found when they arrived was a building in ruin, and it wasn't long before their lives resembled it. Plagued by emergency repairs, a stock market crash, and very exasperated French neighbors, the Wallace's could have accepted their fate. Instead, they embraced it. The French House is the delightfully amusing and picturesque memoir about a family who seized life, rose from the rubble, and built themselves a home away from home."
My Two Cents:
Imagine leaving everything you knew behind to vacation in a run down house where one false move could mean flooding the house or shorting out the electricity. Imagine that you're surrounded by eccentric characters who are super interested (to the point of being nosy) about you newcomers. Don Wallace and his family face all of this in "The French House." If you've ever dreamed of escaping the monotony to a quieter life, this book may be a good pick for you.

I love a book that allows for a great deal of armchair traveling. This book definitely fits into that category. The run down house that Wallace and his family take on just happens to be on a gorgeous French island, which happens to be called Belle Ile or "beautiful island." It's a fitting title for what sounds like from all of Wallace's descriptions to be a really magical place. I loved so many of the descriptions of the house itself and the people of the village. The descriptions are really what made this book a perfect escape. I'm ready to get on the next plane to France.

There are a lot of books that have come out recently about people venturing out to an unknown place and trying to find a way to make it their own. Wallace's family has been going to Belle Ile for a couple decades at this point and have a wealth of stories to tell about their time there. I really liked that Wallace was able to find a very humorous way to talk about some of their travails. That sense of humor kept me wanting to turn the pages!

Overall, this was a very fun book!