Title: Alias Hook
Author: Lisa Jensen
Format: ARC
Publisher: St. Martin's
Publish Date: July 8, 2014 (Today!)
Source: I received a copy from the publisher; however, this did not affect my review.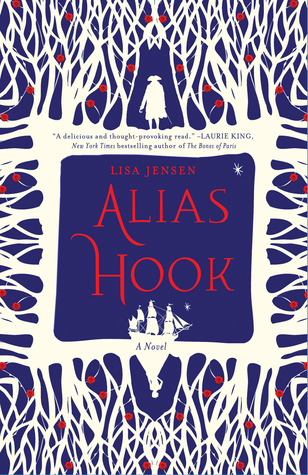 What's the Story?:
From Goodreads.com: "
"Every child knows how the story ends. The wicked pirate captain is flung overboard, caught in the jaws of the monster crocodile who drags him down to a watery grave. But it was not yet my time to die. It's my fate to be trapped here forever, in a nightmare of childhood fancy, with that infernal, eternal boy."

Meet Captain James Benjamin Hook, a witty, educated Restoration-era privateer cursed to play villain to a pack of malicious little boys in a pointless war that never ends. But everything changes when Stella Parrish, a forbidden grown woman, dreams her way to the Neverland in defiance of Pan's rules. From the glamour of the Fairy Revels, to the secret ceremonies of the First Tribes, to the mysterious underwater temple beneath the Mermaid Lagoon, the magical forces of the Neverland open up for Stella as they never have for Hook. And in the pirate captain himself, she begins to see someone far more complex than the storybook villain.

With Stella's knowledge of folk and fairy tales, she might be Hook's last chance for redemption and release if they can break his curse before Pan and his warrior boys hunt her down and drag Hook back to their neverending game. Alias Hook by Lisa Jensen is a beautifully and romantically written adult fairy tale."
My Two Cents:
If you all have paid attention to my blog, you all may have noticed that I have a real soft spot for retellings of classic stories, especially those of fairy tales. I can't get enough of them so I was very excited when I got a chance to review "Alias Hook." As you may infer from the title, this book takes on Captain Hook from Peter Pan. It's a new look at an old classic and I ate it up.

This wholly adult book (yes, it's a fairy tale but think something in the vein of Gregory Maguire's Wicked) is told from the perspective of Captain Hook himself. I really liked this element. It allowed me to see things the way that Captain Hook saw them. We see what he thinks of Peter Pan and his gang of Lost Boys. We also get to see him fall in love (definitely not the way that I thought of Captain Hook). It was really interesting to me to see Neverland through the eyes of an adult. The story of Peter Pan is about never growing up so Alias Hook is the total opposite side of the coin. This definitely gives new life to a classic story.

I think it can be really difficult for authors to take on characters from really well known stories. It means that there are a lot expectations that you have to live up to in the minds of readers. I think Jensen definitely succeeds in walking the line between staying true to the characters. This is a really fun pick!