Title: All the Summer Girls
Author: Meg Donohue
Format: Paperback
Publisher: William Morrow
Publish Date: May 21, 2013
Source:
TLC Book Tours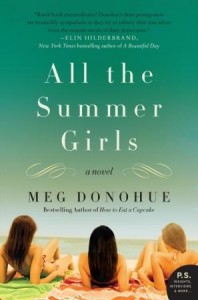 Why You're Reading This Book:
You're a fiction fan.
You like stories about friendships.
You're looking for a light read.
What's the Story?:
From Goodreads.com: "
In Philadelphia, good girl Kate is dumped by her fiance the day she learns she is pregnant with his child. In New York City, beautiful stay-at-home mom Vanessa is obsessively searching the Internet for news of an old flame. And in San Francisco, Dani, the aspiring writer who can't seem to put down a book--or a cocktail--long enough to open her laptop, has just been fired...again.

In an effort to regroup, Kate, Vanessa, and Dani retreat to the New Jersey beach town where they once spent their summers. Emboldened by the seductive cadences of the shore, the women being to realize how much their lives, and friendships, have been shaped by the choices they made one fateful night on the beach eight years earlier--and the secrets that only now threaten to surface."
My Two Cents:
"All the Summer Girls" tells the story of lifelong friends, Kate, Vanessa, and Dani who spent summers together at the Jersey Shore. When the adult lives that they have built for themselves come crashing down (Kate) or on the verge of potential change (Vanessa), or need a change (Dani), they come together again. All of them are hiding their own secrets from each other but they learn that honesty is the only way that you can get what you need.

This book is billed as a beach book and it definitely fits into my definition of a good pick for the beach. When I go to the beach, I want something that keeps me turning the pages but that I don't have to think about too hard. Although some of the topics that the book deals with are on the tough side, you still don't have to think about it too hard.

I really enjoyed this book. I really enjoy stories about friendship. Friendship is such a universal thing. We all need to have those sorts of relationships where we know that we have someone to lean on when things get really hard. Although there is some discontent between Dani and Vanessa in the beginning of the book, you still get to see why this group was so connected to each other. I loved seeing their relationship.

The ending of the book fell a little flat for me. I really wanted to see a little more closure. It almost felt like the book stopped prematurely and it would have been nice to see more where things ended up for the women.

Overall, this book is definitely enjoyable and I would recommend it to someone looking for a book on the lighter side that will still keep you turning the pages.
Follow the Rest of the Tour:
Tuesday, May 21st:
No More Grumpy Bookseller
Wednesday, May 22nd:
Mom in Love With Fiction
Thursday, May 23rd:
A Bookish Affair
Monday, May 27th:
Kritters Ramblings
Tuesday, May 28th:
Tiffany's Bookshelf
Thursday, May 30th:
I Read a Book Once
Monday, June 3rd:
A Musing Reviews
Tuesday, June 4th:
Giraffe Days
Wednesday, June 5th:
Tina's Book Reviews
Monday, June 10th:
Literally Jen
Tuesday, June 11th:
From the TBR Pile
Wednesday, June 12th:
Write Meg
Date TBD:
Sweet Southern Home