Title: Secrets of a Charmed Life
Author: Susan Meissner
Format: Paperback
Publisher: NAL Trade
Publish Date: February 3, 2015 (Today!)
Source: I received a copy from the publisher; however, this did not affect my review.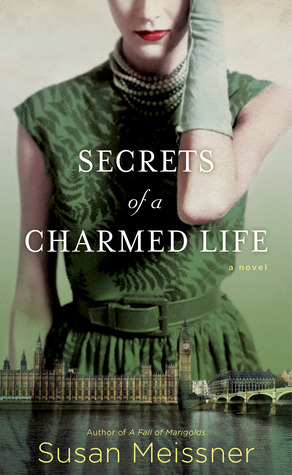 What's the Story?:
From Goodreads.com: "
Current day, Oxford, England. Young American scholar Kendra Van Zant, eager to pursue her vision of a perfect life, interviews Isabel McFarland just when the elderly woman is ready to give up secrets about the war that she has kept for decades...beginning with who she really is. What Kendra receives from Isabel is both a gift and a burden--one that will test her convictions and her heart.

1940s, England. As Hitler wages an unprecedented war against London's civilian population, one million children are evacuated to foster homes in the rural countryside. But even as fifteen-year-old Emmy Downtree and her much younger sister Julia find refuge in a charming Cotswold cottage, Emmy's burning ambition to return to the city and apprentice with a fashion designer pits her against Julia's profound need for her sister's presence. Acting at cross purposes just as the Luftwaffe rains down its terrible destruction, the sisters are cruelly separated, and their lives are transformed…"
My Two Cents:
At its core, "Secrets of a Charmed Life" is a story of sisters and secrets. Set during World War II in England, this historical fiction book focuses on the London evacuation of children during the war. Emmy and Julia are two of those children to be evacuated. Older Emmy sees an opportunity to carve out a new life for herself, separate from the difficult life she had growing up. It may mean leaving some things behind though and she is not sure that she is ready to leave the past behind. This book mostly follows Emmy's journey.

This book started out a little stiffly to me but really hit it's stride later on. Although the book really focuses on the events of WWII and the aftermath of the war in Emmy's life, the author introduces a present day element. The present day element is warranted as it allows the reader to gain some insight into what happened eventually because of Emmy's decisions as a young woman. I just did not like this part as much. We really don't get to know Kendra, the present day graduate student who interviews the mysterious Isabel. She is more of just a vehicle for the secrets and therefore it felt to me like she was a just sort of stuck in the story.

I loved the historical detail in this book though. I knew about the evacuations of the children from London but I did not know too much about them as in how they actually happened and what it might have been like for the children to be evacuated. I liked how the author gave readers some insight into what it must have been like. Overall, I enjoyed this story and believe that other historical fiction lovers will enjoy it as well.