Title: Five Days at Memorial
Author: Sheri Fink
Format: Hardcover
Publisher: Crown
Publish Date: September 10, 2013
Source: Library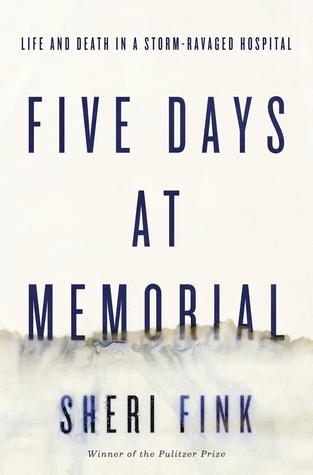 What's the Story?:
From Goodreads.com: "
In the tradition of the best investigative journalism, physician and reporter Sheri Fink reconstructs 5 days at Memorial Medical Center and draws the reader into the lives of those who struggled mightily to survive and to maintain life amid chaos.

After Katrina struck and the floodwaters rose, the power failed, and the heat climbed, exhausted caregivers chose to designate certain patients last for rescue. Months later, several health professionals faced criminal allegations that they deliberately injected numerous patients with drugs to hasten their deaths.

Five Days at Memorial, the culmination of six years of reporting, unspools the mystery of what happened in those days, bringing the reader into a hospital fighting for its life and into a conversation about the most terrifying form of health care rationing."
My Two Cents:
Wow! I've been trying to fit a little more non-fiction in my reading diet and this book was definitely a good pick. I was pretty much totally captivated all the through the entire book. This book is definitely a page turner. The book takes place during Hurricane Katrina in a hospital in New Orleans. As the situation gets more and more dire, the doctors are forced to make decisions that bring up many questions about ethics. There is so much to think about in this book and I know that this is definitely a book that is going to stay with me for a very long time after I finished.

I really think that books about ethical decisions are fascinating. What do you do when you are faced with a situation where any decision is more than likely going to have really bad consequences? The doctors and hospital staff are faced with terrible choices in this book. I have no idea what I would have done if I were in their place.

The writing in this book is great and can best be described as long-form journalism. I like that the author really left it up to the readers to decide what they felt about the situation. I love books that make you think. It feels like you get to get a little more involved with the book. Fink drew on many, many interviews in order to recreate what happened in Memorial during the storm. You can see what the hospital looked like as the water began to encroach on it. You can smell the horrible conditions. You can see the doctors, patients, and family and feel just how much they must have wanted to get out of that place.

Being interested in strategic planning, I also found the discussion on how the hospital did not really have a plan in place for what to do in a situation like a hurricane, which New Orleans sees quite frequently. This event spurred other hospitals to look at what they needed to be able to do when a major disaster happened, which Fink looks at a little bit.

Overall, this is a great read!