Title: The Nightingale
Author: Kristin Hannah
Format: ARC
Publisher: St. Martin's Press
Publish Date: February 3, 2015
Source: I received a copy from the publisher; however, this did not affect my review.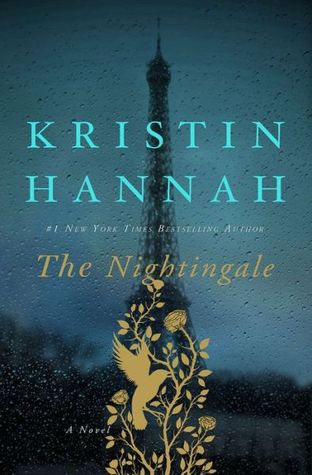 Why You're Reading This Book:
You're a historical fiction fan.
You're interested in World War II.
You like stories about sisters.
You're interested in unsung heroes.
What's the Story?:
From Goodreads.com: "
In love we find out who we want to be.
In war we find out who we are.

FRANCE, 1939

In the quiet village of Carriveau, Vianne Mauriac says goodbye to her husband, Antoine, as he heads for the Front. She doesn't believe that the Nazis will invade France...but invade they do, in droves of marching soldiers, in caravans of trucks and tanks, in planes that fill the skies and drop bombs upon the innocent. When France is overrun, Vianne is forced to take an enemy into her house, and suddenly her every move is watched; her life and her child's life is at constant risk. Without food or money or hope, as danger escalates around her, she must make one terrible choice after another.

Vianne's sister, Isabelle, is a rebellious eighteen-year-old girl, searching for purpose with all the reckless passion of youth. While thousands of Parisians march into the unknown terrors of war, she meets the compelling and mysterious Gäetan, a partisan who believes the French can fight the Nazis from within France, and she falls in love as only the young can...completely. When he betrays her, Isabelle races headlong into danger and joins the Resistance, never looking back or giving a thought to the real--and deadly--consequences.
"
My Two Cents:
At the beginning of every year, I am always thinking about when I am going to find my first five star read for the year. What book is going to take my breath away? Sometimes it takes awhile to find that first great read but other years, I find it very quickly. Luckily for 2015, it happened quickly. "The Nightingale" is the story of two sisters, Isabelle and Viann, who live in France during World War II. Isabelle has always been a little bit of a rebel. Viann has been happy to be a wife and a mother who doesn't rock the boat. These two very different sisters will both rise to the occasion of protecting and defending the things and people that they believe in during arguably one of the most tumultuous times in France's history.
I really loved the way that this story was written. Hannah has a great way about pulling the reader right into the thick of the story and quickly making the characters feel like people that you really want to root for. There is so much good detail in here. I could see Isabelle's dangerous Paris where every action could potentially get her in trouble. I could see Viann's small provincial town where Nazis billet with the people of the town and everyone is under a lot of scrutiny. The detail never feels forced or overbearing. Hannah deftly creates a really realistic setting where the constant fear and danger feel fantastically real.
I fell quickly for both Isabelle and Viann. Their relationship is so complicated but it felt really well. Viann has always seen Isabelle as being too impulsive and too much of a dreamer. Isabelle has always seen Viann as being sort of a stick in the mud. They are as different as two sisters can be. During the war, Isabelle falls quickly in with the underground movement to help even if it means putting her life on the line. Viann thinks Isabelle is crazy but circumstances eventually drive Viann to take a stand after her best friend, Rachel, a Jew, is taken away. Viann will find strength that she never knew that she had! Both of the main characters are so amazing and are a great representation of some of the amazing unsung heroes of WWII.
The story itself is fantastic. World War II continues to be one of my favorite eras to read about. This story covered a topic that I really love to read about. Throughout the stories of WWII, there are stories of all sorts of different people who truly rose to the occasion and did some really incredible things to save their fellow men or to try to at least better a horrible situation a little bit. It is truly inspiring. This book is a great tribute to those who took a stand.
This book had me going through so many different emotions. I love when a book can do that. It is almost as if the story is truly transcending the pages. This is a book that I will be thinking about for a long time!