Title: Scarlet
Author: Marissa Meyer
Format: Hardcover
Publisher: Feiwel and Friends
Publish Date: February 5, 2013
Source: Owned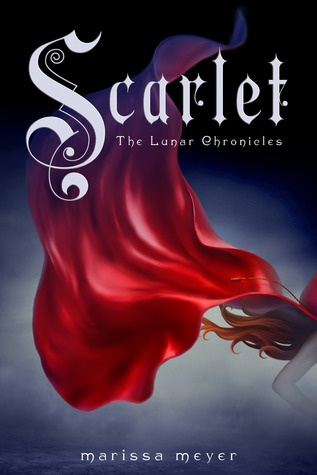 What's the Story?:
From Goodreads.com: "
Cinder, the cyborg mechanic, returns in the second thrilling installment of the bestselling Lunar Chronicles. She's trying to break out of prison--even though if she succeeds, she'll be the Commonwealth's most wanted fugitive. Halfway around the world, Scarlet Benoit's grandmother is missing. It turns out there are many things Scarlet doesn't know about her grandmother or the grave danger she has lived in her whole life. When Scarlet encounters Wolf, a street fighter who may have information as to her grandmother's whereabouts, she is loath to trust this stranger, but is inexplicably drawn to him, and he to her. As Scarlet and Wolf unravel one mystery, they encounter another when they meet Cinder. Now, all of them must stay one step ahead of the vicious Lunar Queen Levana, who will do anything for the handsome Prince Kai to become her husband, her king, her prisoner."
My Two Cents:
"Scarlet" is the second book in the fabulous Lunar Chronicles series from Marissa Meyer. I really love this series and you will too if you're looking for something off the beaten path, sci-fi-ish, and filled with fabulous and memorable characters. One thing that I loved about "Cinder," the first book in the series, and "Scarlet" is that both books are so original. The storyline is really interesting and imaginative! "Scarlet" is a sci-fi retelling of Little Red Riding Hood. Yes, I know that sounds a little odd but really, it is fantastic. You are going to be very lost with "Scarlet" if you don't read "Cinder" first. This book is not a stand-alone.

First off, the characters in this book continue to be outstanding. Meyer gives us a new heroine in Scarlet, a French girl who just wants to save her grandmother who has disappeared and left a mystery in her wake. You also have the reappearance of some other favorites from "Cinder" so you get to see how things turn out for some of those characters that you enjoyed so much in the first book. I really liked how each character was so unique and really had their own voice. These characters really felt three-dimensional to me.

The other excellent feature of this series is the world-building. Meyer built a great foundation in "Cinder" but things get even more complicated (in a wonderful way) in "Scarlet." Meyer goes into a lot more detail as to what is happening in the war between Earth and the Moon. You also get really good descriptions as to what its like where the characters are living. I liked that Meyer focused on both creating really good characters and creating a truly fascinating world for them to "play" in. I know that I am most definitely excited for the future books in this series!