Title: Past Encounters
Author: Davina Blake
Format: Paperback
Publisher: Self-published
Publish Date: June 30, 2014
Source:
HF Virtual Book Tours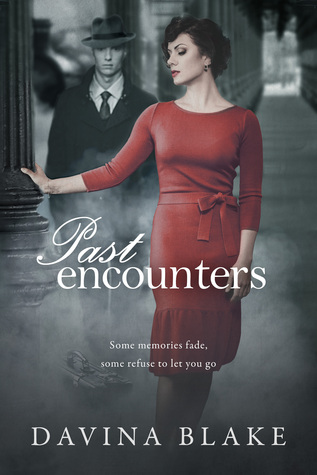 What's the Story?:
From Goodreads.com: "

From the moment Rhoda Middleton opens one of her husband's letters and finds it is from another woman, she is convinced he is having an affair. But when Rhoda tracks her down, she discovers the mysterious woman is not his lover after all, but the wife of his best friend, Archie Foster.
There is only one problem - Rhoda has never even heard of Archie Foster.
Devastated by this betrayal of trust, Rhoda tries to find out how and why her husband, Peter, has kept this friendship hidden for so long. Her search leads her back to 1945, but as she gradually uncovers Peter's wartime secrets she must wrestle with painful memories of her own. For if they are ever to understand each other, Rhoda too must escape the ghosts of the past. Taking us on a journey from the atmospheric filming of Brief Encounter, to the extraordinary Great March of prisoners of war through snow-bound Germany, this is a novel of friendship, hope, and how in the end, it is the small things that enable love to survive. "
In "Past Encounters," our main character, Rhoda, finds out that the past has a very interesting way of sneaking into the present. She opens one of her husband's letters and quickly finds out that she doesn't know everything about her husband's life during World War II like she thought she did. The narrative in the story goes back and forth between the past (1940s) and the present (mid-1950s) as Rhoda tries to unravel the mystery of why her husband has been hiding such a big secret from her.
Rhoda and her husband, Peter, definitely made the story very interesting for me. Their marriage is slowly unraveling when the book opens and Rhoda discovers that Peter might be hiding something really big from her. Peter spent many years in a German camp as a prisoner of war. He is haunted by his time there. Rhoda tries to be respectful and to not pry, partly because she has secrets of her own from the war that she does not want to come to light. It was so interesting to see how these two characters play off of each other. There is a love there but also a growing distrust as secrets begin to come to light. It's definitely an interesting juxtaposition.
The writing of the book is pretty good. I really liked how the author used two time periods to give us some different views of what was really happening to Rhoda and Peter and how their experiences during the war played out. There were a couple places where Rhoda and Peter were going around that I thought could have been slimmed down as the characters did not seem to be getting any further but overall, I enjoyed it.
Follow the Rest of the Tour: