Title: The House of Hawthorne
Author: Erika Robuck
Format: Hardcover
Publisher: NAL
Publish Date: May 5, 2015
Source: I received a copy from the publisher; however, this did not affect my review.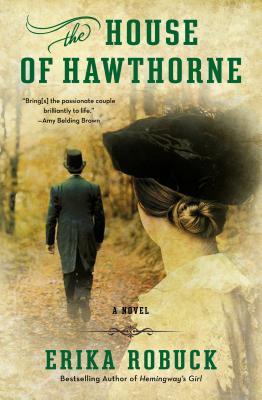 What's the Story?:
From Goodreads.com: "
Beset by crippling headaches from a young age and endowed with a talent for drawing, Sophia is discouraged by her well-known New England family from pursuing a woman's traditional roles. But from their first meeting, Nathaniel and Sophia begin an intense romantic relationship that despite many setbacks leads to their marriage. Together, they will cross continents, raise children, and experience all the beauty and tragedy of an exceptional partnership. Sophia's vivid journals and her masterful paintings kindle a fire in Nathaniel, inspiring his writing. But their children's needs and the death of loved ones steal Sophia's energy and time for her art, fueling in her a perennial tug-of-war between fulfilling her domestic duties and pursuing her own desires.

Spanning the years from the 1830s to the Civil War, and moving from Massachusetts to England, Portugal, and Italy, The House of Hawthorne explores the tension within a famous marriage of two soulful, strong-willed people, each devoted to the other but also driven by a powerful need to explore the far reaches of their creative impulses. It is the story of a forgotten woman in history, who inspired one of the greatest writers of American literature.…"
My Two Cents:
"The House of Hawthorne" is Erika Robuck's latest historical fiction. I enjoyed "Hemingway's Girl" so I was looking forward to reading this book (I need to get on reading Robuck's other books - so many books, so little time). This book focuses on the relationship and marriage between author, Nathaniel Hawthorne, and his wife Sophia. Nathaniel is definitely the more well-known of the Hawthornes, however, his wife was also an artist in her own right.

I did not know much about Nathaniel Hawthorne's life before reading this book. It's always interesting to me to read historical fiction that takes a look at historical figures that you may not be familiar with. It seems like a great way to get an introduction! The only thing that I've ever read by Hawthorne is "The Scarlet Letter," so I was looking forward to reading about the man behind the book. Robuck looks at the interesting relationship between Nathaniel and Sophia. Sophia both inspired Nathaniel but was also an artist in her own right, who fought her own demons.

The book is told from Sophia's perspective, which I really liked. She had a interesting life in her own right before she met Nathaniel where she ended up in Cuba where she was trying to recover from health issues that would end up plaguing her for her entire life. I liked that we get to know her separately from Nathaniel as well as what they are like when they are together. Robuck breathes life into Hawthorne and we get to know him in a very intimately.

The relationship between Nathaniel and Sophia was interesting and it's easy to see why the author was drawn to writing about this couple. They fight a lot of the same demons as well as some different ones but in many ways, they bring out the best in each other. When Nathaniel and Sophia first meet, the sparks are almost instantaneous. They recognize in each other something that they don't find in a lot of other people: a love of art and an understanding of the importance of solitude. When they get married, there are some naysayers (including the famous Margaret Fuller) who say that art will be put on the proverbial back burner and neither Nathaniel nor Sophia will create anything great again. In the case of Nathaniel, he writes some of his most famous books while he is married. Sophia has a much different experience. The book explores how she copes with this and what she is able to create as part of the family.

Another thing that I enjoyed within this book is reading about all of the Hawthorne's other friends. Much of the book is set in Massachusetts, specifically Concord where the family makes their home. Concord was a haven for many writers including Henry Thoreau and Louisa May Alcott. It was interesting to see a different side of these writers than just their books.

The writing of this book was great! Again, I really liked that Sophia narrated the book. She has a wholly original voice and all of the detail made her seem real. I also really liked this book takes you so many different places. Although most of the book is set in Massachusetts, throughout the book the characters travel to England, Italy, and Portugal, which Robuck is able to bring to life with rich detail. I recommend this book to anyone who is looking for a good portrait of Nathaniel Hawthorne and his family or wants to do some armchair traveling.