Title: Absolutely True Lies
Author: Rachel Stuhler
Format: Ebook
Publisher: Touchstone
Publish Date: May 26, 2015
Source: Publisher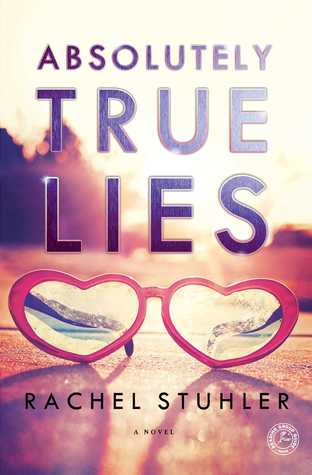 What's the Story?:
From Goodreads.com: "
A fledgling entertainment writer stumbles into the gig of a lifetime writing a teenage pop star's memoir and soon realizes that the young celebrity's squeaky-clean image is purely a work of fiction.

Struggling writer Holly Gracin is on the verge of moving back home to upstate New York when she gets hired to write the memoirs of eighteen-year-old Daisy Mae Dixson, a former Nickelodeon child star who has moved seamlessly into both blockbuster movies and pop music.

Holly quickly realizes that Daisy's wholesome public image is purely a work of fiction, as Holly finds herself trailing the star as she travels around the world on yachts, gets stalked by paparazzi, and sneaks out of five-star hotels in the dead of night.

As Holly struggles to write a flattering portrait of a teenage millionaire who only eats "nightshades" and treats her employees like slaves, Daisy has a public meltdown - and suddenly, her book is the cornerstone of resurrecting her image. But working at all hours trailing a pop star has taken its toll, and Holly must decide if becoming the ultimate insider is worth losing a starring role in her own life."
My Two Cents:
In "Absolutely True Lies," Holly is a down on her luck entertainment writer and Hollywood who's just trying to make it. She's working a dead end job so when she has the opportunity to be a ghostwriter for an autobiography of one of Hollywood's hottest young teen starlets, she jumps at the chance. She has no idea how this is going to upend her life.

The premise of the story was interesting to me. Hollywood and all of the things that go on in that crazy town are interesting to me but definitely not anywhere where I would want to find myself so reading a book about all of the Hollywood craziness and living vicariously through Holly was perfect for me. This is a good light read. It takes readers on Holly's journey from L.A. to Miami to Rome to New York as she follows around Daisy Mae Dixson, the young starlet who's wholesome, squeaky clean image is simply a ruse. Daisy reminded me a lot of a Miley Cyrus or an Amanda Bynes or a lot of other young Hollywood starlets. Holly sticks around because she wants to do a good job and this also may be the only shot she has for her career to finally take off.

I enjoyed the story however the author definitely has a tendency to tell more than show in the book, which I found myself a bit frustrated with. A lot of the characters actions are explained so explicitly that it makes the book lose a little bit of steam. I like the work that a reader does as they are reading the book in order to really digest what is going on and that opportunity is not really there in this book. Sometimes it's better to leave some of the detail to the actions in the book rather than saying explicitly what is happening. This did bog down the story quite a bit. Overall, I enjoyed the story but I wish that there was a little less spelled out so explicitly for me.