Title: What I Know For Sure
Author: Oprah Winfrey
Format: Audiobook
Publisher: Macmillan Audio
Publish Date: September 2, 2014
Source: I received a copy from the publisher; however, this did not affect my review.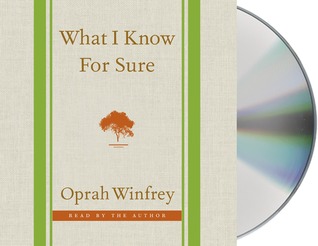 What's the Story?:
From Goodreads.com: "
After film critic Gene Siskel asked her, "What do you know for sure?" Oprah Winfrey began writing the "What I Know For Sure" column in O, The Oprah Magazine. Saying that the question offered her a way to take "stock of her life," Oprah has penned one column a month over the last fourteen years, years in which she retired The Oprah Winfrey Show (the highest-rated program of its kind in history), launched her own television network, became America's only black billionaire, was awarded an honorary degree from Harvard University and the Presidential Medal of Freedom, watched friends and colleagues come and go, lost beloved pets and adopted new ones, and celebrated milestone birthdays. Throughout it all, she's continued to offer her profound and inspiring words of wisdom in her "What I Know For Sure" column in O, The Oprah Magazine.Now, for the first time, these thoughtful gems have been revised, updated, and collected in What I Know For Sure, a beautiful audiobook packed with insight and revelation from Oprah Winfrey. Organized by theme—joy, resilience, connection, gratitude, possibility, awe, clarity, and power—these essays offer a rare and powerful glimpse into the mind of one of the world's most extraordinary women. Candid, moving, exhilarating, uplifting, and dynamic, the words Oprah shares in What I Know For Sure shimmer with the sort of wisdom and truth that listeners will turn to again and again."
My Two Cents:
"What I Know For Sure" is a collection of stories from the column in Oprah Winfrey's own magazine by the same title. The stories are vignettes from Oprah Winfrey's life and will definitely appeal to anyone who is a fan. It will also appeal to people who are looking for some heartwarming stories and reminiscing on some of the good parts of life!

I listened to this book on audiobook. For this book, I really thought that audiobook for these stories worked really well first off because Oprah Winfrey actually narrates the stories and it really I did a nice touch to hear the stories told by such a memorable voice. This audiobook was definitely a lot of fun.

The stories cover a wide variety of topics. As I said before all of these stories have appeared in Oprah's magazine so they may not being new to some of the readers of the magazine; however, this makes for a nice collection even if you are not reading the stories for the first time. Being an animal lover, one of my favorite stories in this collection is about Oprah's dogs I definitely like that one. I also loved the story about her interviewing Robin Williams as a young news reporter!

Overall, I really enjoyed this collection. I thought those stories were great and I really liked the sense of warmness that permeates throughout each of the stories that Oprah tells.