Title: Shadow on the Highway
Author: Deborah Swift
Format: Paperback
Publisher: Self-published
Publish Date: July 30, 2014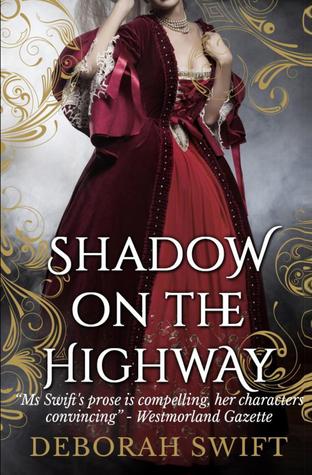 From Goodreads.com: "

Abigail Chaplin has always been unable to find a position as a maidservant like other girls, because she is deaf. So why do the rich Fanshawes of Markyate Manor seem so anxious to employ her? And where exactly does her mistress, Lady Katherine, ride out to at night?
SHADOW ON THE HIGHWAY is based on the life and legend of Lady Katherine Fanshawe, the highwaywoman, sometimes known as The Wicked Lady. A tale of adventure and budding romance set in the turbulent English Civil War, this is a novel to delight teens and adults alike. "
In "Shadow on the Highway," poor Abi just wants a steady job. Being deaf in the time of the English Civil War is not really that easy. Most people are not willing to give her the time of day. When she gets a job at a fine house run by Lady Katherine, Abi is very excited but she soon realizes that there is much more to Lady Katherine than she realizes! Take a great main character and a fantastically mysterious historical figure and you have a lot of action waiting for you in this book. If you like your historical fiction off the beaten path, this will be a great book for you!
I really liked Abi. She has a ton of gumption and curiosity and while sometimes it gets her into trouble, for the most part it serves her very well. One thing that I have liked about some of the previous works that I have read by Swift is that her heroes and heroines are definitely not the typical ones you find in historical fiction. All of her characters are very much everyday people for the most part that she is able to put into extraordinary circumstances. This is exactly what she does with Abi and I loved it. I also really liked the detail of Abi being deaf. It was interesting to see how she was able to both overcome this difference and use it to her advantage throughout the book.
Before reading this book, I did not really know anything about Lady Katherine Fanshawe. She was so interesting to me! This is the first book in a planned series about Lady Katherine and I am anxious to see what Swift comes up with next for Abi and Katherine!
Follow the Rest of the Tour: