Title: How to Build a Girl
Author: Caitlin Moran
Format: ARC
Publisher: Harper
Publish Date: September 23, 2014
Source:
TLC Book Tours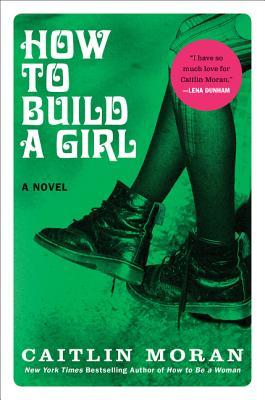 What's the Story?:
From Goodreads.com: "
What do you do in your teenage years when you realize what your parents taught you wasn't enough? You must go out and find books and poetry and pop songs and bad heroes—and build yourself.

It's 1990. Johanna Morrigan, fourteen, has shamed herself so badly on local TV that she decides that there's no point in being Johanna anymore and reinvents herself as Dolly Wilde—fast-talking, hard-drinking gothic hero and full-time Lady Sex Adventurer. She will save her poverty-stricken Bohemian family by becoming a writer—like Jo in Little Women, or the Brontës—but without the dying-young bit.

By sixteen, she's smoking cigarettes, getting drunk, and working for a music paper. She's writing pornographic letters to rock stars, having all the kinds of sex with all the kinds of men, and eviscerating bands in reviews of 600 words or less.

But what happens when Johanna realizes she's built Dolly with a fatal flaw? Is a box full of records, a wall full of posters, and a head full of paperbacks enough to build a girl after all?"
My Two Cents:
In "How to Build a Girl," we meet Johanna, a teenaged girl who lives in a too small house with a too big family. She is also about as awkward (endearingly so, but awkward nontheless) as one can get. Johanna wants to get away from it all and start living her grown-up life (even if she doesn't exactly know what that looks like). Since she is still too young to leave the house, she gets in with a local music magazine and starts writing for them. Hilarity ensues!

After reading Caitlin Moran's autobiographical books "How to be a Woman" and "Moranthology," I knew that I needed to get my hands on this book so see what Moran's fiction was like. Well, the fiction feels very much like the non-fiction and I definitely enjoyed it. "How to Build a Girl" does feel very similar and a lot of the scenarios in the book are similar. But when it comes down to it, what worked in the non-fiction books, works here and makes for an entertaining read!

The book is told from Johanna's perspective and she has a very bright and funny voice. There were definitely several parts in the book where I was trying to control my laughing out loud while on the metro (a mark of a good story)! I fell for Johanna, who feels quite similar to Caitlin in a lot of ways. If you already know Moran's writing, you will probably enjoy this book. If you've wanted to try her books out, this is a fitting one to do that with! I would love to see Moran branch out more with her fiction in the future!