Title: The Mindful Day: Practical Ways to Find Focus, Calm, and Joy from Morning to Evening
Author: Laurie J. Cameron
Format: Hardcover
Publisher: National Geographic Society
Publish Date: March 27, 2018
Source: TLC Book Tours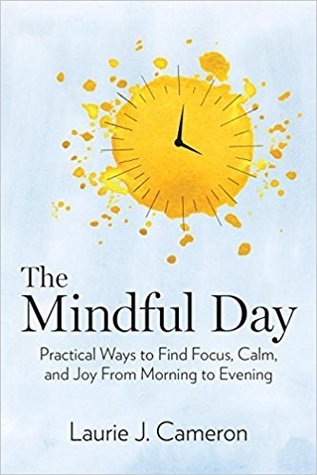 What's the Story?:
From Goodreads.com: "

At the pinnacle of the digital age, it's hard to imagine packing one more thing into our overwhelmed lives. But new research shows that simple daily exercises can change the way our brain works, improve focus, lift our mood, create stronger connections, and help us develop greater resilience. In this enriching book, noted teacher and mindfulness expert Laurie Cameron provides an everyday road map to cultivate inner peace and navigate any situation with control and clarity. Timeless teachings and straightforward practices designed for busy schedules--from the morning commute to back-to-back meetings to family dinners--show how mindfulness can transform life at home, in the workplace, and beyond. A personal guide for women who have leaned in, men who want to be more effective, and professionals looking to optimize their lives, this book will help readers lead their lives with intention and purpose.

"
My Two Cents:
"The Mindful Day" is a great resource for anyone that is looking to put a little more peace in their lives (aren't we all looking for that???). A lot of people mistakenly believe that being mindful has to be a really big production that would be difficult to fit into a super busy life. As Cameron shows us, you can be mindful about all sorts of activities that you are already doing anyway. Being mindful is a state of mind. Through practicing it, you can get more out of every day activities.

This book may be best enjoyed in small sips, almost like a workbook. The book is filled with various tactics to practice mindfulness every day, throughout the day, even during something mundane like taking a shower. While I like meditating and I have actively been trying to be more mindful, I really liked the idea of trying to fit in mindfulness throughout the day during things that you are already doing.

I think this would be a useful tool for so many people!