Title: Let Me Lie
Author: Clare Mackintosh
Format: ARC
Publisher: Berkley,
Publish Date: March 13, 2018
Source: PR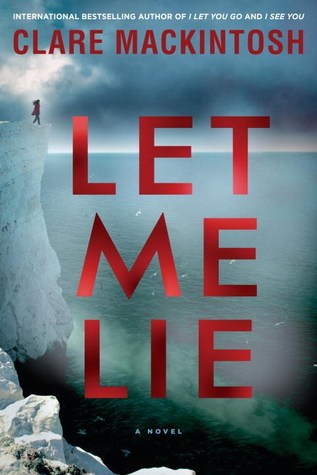 What's the Story?:
From Goodreads.com: "

Two years ago, Tom and Caroline Johnson committed suicide, one seemingly unable to live without the other. Their adult daughter, Anna, is struggling to come to terms with her parents' deaths, unable to comprehend why they chose to end their lives. Now with a young baby herself, she feels her mother's presence keenly and is determined to find out what really happened to her parents. But as Anna digs up the past, someone is trying to stop her. She soon learns that nothing is as it seemed."
My Two Cents:
In "Let Me Lie," Anna believes that she lost both of her parents to suicide with a few months between them. When mysterious things start happening, Anna believes that perhaps it wasn't suicide that took her parents but something completely different. This book is a thriller but has a very slow burn. It took me awhile to get into this one but if you hang in there, you'll be rewarded with an exciting second half of the book that keeps you on your toes.
I have enjoyed Mackintosh's other two books so I wanted to see what this one was like. It started much slower than the other two books and was dragging for me. It very slowly started to pick up and then was off like a flash once you figure out what happened to Anna's mother. I was so glad I hung in there. Once I hit that point, I couldn't stop reading. It was wonderful!
Part of the problem that I had is that our main character, Anna, mostly seems to only be the vessel for the story. I wanted to know more about her and what kind of person she was. You don't really get that throughout the book as the book is more focused on the mystery. I wanted to know a little more about her and how she grew up in light of what we find out about her parents.
Overall, this was a good story; it just took a little while to heat up!