Title: The Orphan's Tale
Author: Pam Jenoff
Format: ARC
Publisher: Mira
Publish Date: February 21, 2017
Source: TLC Book Tours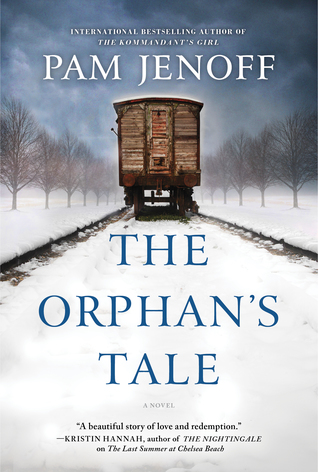 What's the Story?:
From Goodreads.com: "Sixteen-year-old Noa has been cast out in disgrace after becoming pregnant by a Nazi soldier and being forced to give up her baby. She lives above a small rail station, which she cleans in order to earn her keep… When Noa discovers a boxcar containing dozens of Jewish infants bound for a concentration camp, she is reminded of the child that was taken from her. And in a moment that will change the course of her life, she snatches one of the babies and flees into the snowy night.

Noa finds refuge with a German circus, but she must learn the flying trapeze act so she can blend in undetected, spurning the resentment of the lead aerialist, Astrid. At first rivals, Noa and Astrid soon forge a powerful bond. But as the facade that protects them proves increasingly tenuous, Noa and Astrid must decide whether their friendship is enough to save one another—or if the secrets that burn between them will destroy everything."
My Two Cents:
"The Orphan's Tale" is the story of Noa, a teenager girl who is cast aside by her family after she gets pregnant as a teenager during World War II. After she rescues the baby from certain doom, she quickly comes across a circus and is taken in by the circus performers and is trained to become a trapeze artist. Astrid is a woman who is on the run as well. She leaves her German husband as she is a Jew and would make him a target. She knows she has to stay on the move so the circus is a perfect hiding space for her. Pam Jenoff is a favorite of mine and I was excited for this book!

This is a book that is a very different story from World War II. World War II historical fiction is incredibly popular. Sometimes the stories are so similar to each other that it's hard to tell them apart. This one stands out not only for the unique story line but for the rich detail that the author uses to bring the characters and the setting to life. I really enjoyed this one.

The chapters in the book are divided between Noa and Astrid. The relationship between Noa and Astrid was especially interesting to me. It's so good to read how their relationship shifts and changes throughout the book. The relationship starts out as more of rivalry when Astrid sees Noa as competition for her place in the circus. They eventually realize that they may have more in common than they initially want to admit. This could bring them closer together or tear them apart. The author creates a really realistic and complicated relationship between these two characters that kept me wanting to read.

I really liked the historical detail about the circus and the performers. These performers travel all over while the war is still going on in Europe which makes them an automatic target. I really like the unique perspective of people who get to travel so much during the height of the war. This is a great pick for historical fiction lovers who love a story with the good detail and fascinating characters!