Title: Our Own Private Universe
Author: Robin Talley
Format: ARC
Publisher: Harlequin Teen
Publish Date: January 31, 2017
Source: PR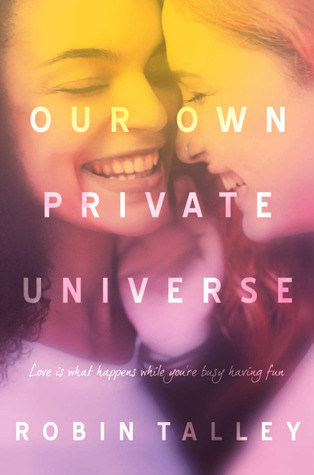 What's the Story?:
From Goodreads.com: "Fifteen-year-old Aki Simon has a theory. And it's mostly about sex.

No, it isn't that kind of theory. Aki already knows she's bisexual—even if, until now, it's mostly been in the hypothetical sense. Aki has dated only guys so far, and her best friend, Lori, is the only person who knows she likes girls, too.

Actually, Aki's theory is that she's got only one shot at living an interesting life—and that means she's got to stop sitting around and thinking so much. It's time for her to actually do something. Or at least try.

So when Aki and Lori set off on a church youth-group trip to a small Mexican town for the summer and Aki meets Christa—slightly older, far more experienced—it seems her theory is prime for the testing.

But it's not going to be easy. For one thing, how exactly do two girls have sex, anyway? And more important, how can you tell if you're in love? It's going to be a summer of testing theories—and the result may just be love."
My Two Cents:
"Our Own Private Universe" is another book by Robin Talley. It takes place in the present day when few groups of teenage churchgoers go to Mexico to help out in the community. Aki is the preacher's daughter and has just figured out that she may be bisexual. She falls in love with Christa, a girl who seems to have a little more experience. Both of them will have to come to terms with what it means to be "out" even if those in their church or their families don't understand or support it.

I've enjoyed Talley's other books. This one was just okay for me. There was a little bit of stereotyping in the book that really took me out of the book and made me wonder if the stereotyping came from the characters in the book simply being naïve and not having been not having been around a lot of gay people before because of the kind of social circle that they're in their church or what. For instance, Aki justifies thinking that a secondary character in the book is gay because she wears board shorts everywhere.

As with Talley's other books, this book had a focus on some serious topics. One of the stand out topics in this book was the focus on safe sex. Aki really wants to make sure that the sex she has with Christa is safe. The book points out that Aki is totally perplexed by what constitutes safe sex between two females as all of the sex ed she had in school focused on male/ female sex. I appreciated the way that the author tried to teach this lesson. It was a bit overwrought but the point certainly gets across. I do think it's important for young adult readers to be able to encounter all sorts of subjects through their reading and can appreciate where Talley was trying to go.