Title: The Bourbon Kings
Author: J.R. Ward
Format: Hardcover
Publisher: Penguin
Publish Date: July 28, 2015
Source: Publisher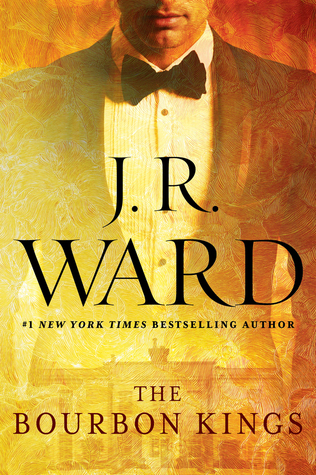 What's the Story?:
From Goodreads.com: "For generations, the Bradford family has worn the mantle of kings of the bourbon capital of the world. Their sustained wealth has afforded them prestige and privilege—as well as a hard-won division of class on their sprawling estate, Easterly. Upstairs, a dynasty that by all appearances plays by the rules of good fortune and good taste. Downstairs, the staff who work tirelessly to maintain the impeccable Bradford facade. And never the twain shall meet.

For Lizzie King, Easterly's head gardener, crossing that divide nearly ruined her life. Falling in love with Tulane, the prodigal son of the bourbon dynasty, was nothing that she intended or wanted—and their bitter breakup only served to prove her instincts were right. Now, after two years of staying away, Tulane is finally coming home again, and he is bringing the past with him. No one will be left unmarked: not Tulane's beautiful and ruthless wife; not his older brother, whose bitterness and bad blood know no bounds; and especially not the ironfisted Bradford patriarch, a man with few morals, fewer scruples, and many, many terrible secrets.

As family tensions—professional and intimately private—ignite, Easterly and all its inhabitants are thrown into the grips of an irrevocable transformation, and only the cunning will survive."
My Two Cents:
"The Bourbon Kings" is the first book in a new series about the Bradford family, a family that is both extremely rich and extremely dysfunctional. There are a lot of different plots in this book but the major two surround the family business and the illicit love affair of Bradford son, Lane, and head gardener, Lizzie. While the book kept me engaged, it is filled with a lot of typical tropes of rich, dysfunctional families that felt like a repeat of so many other things that already exist.

I don't need to like a character to get into a book. I really don't but I do need to be able to understand a character and I do need to be able to get their place in the book. I want them to be fully fleshed out and feel like a real person. There is only one character that really fit that bill for me in this book and that was Lizzie. She is interesting and engaging. I really enjoyed reading about all of the things that she is coping with throughout the book. Even Lane fell flat for me. He's brooding and acts much younger than he actually is. He seems unwilling to make the hard decisions that landed him and Lizzie apart. So many of the other characters seem like caricatures such as any of the other women in the book, to include Gin, a Bradford sister who also has a point of view in this book.

The writing of the book was mixed for me. Some parts of the writing were really good. I liked a lot of the descriptions of what life on the Bradford estate is like. The author sometimes tells too much instead of showing particularly when it comes to the characters speaking. I think the book could have been streamlined a little more. Overall, I think the book could have been cleaned up a bit but am hopeful for the next book in the series as it was a lot of fun to step foot into the glittering world of the Bradfords.