Title: The Girl from the Savoy
Author: Hazel Gaynor
Format: ARC
Publisher: William Morrow
Publish Date: June 7, 2016
Source: TLC Book Tours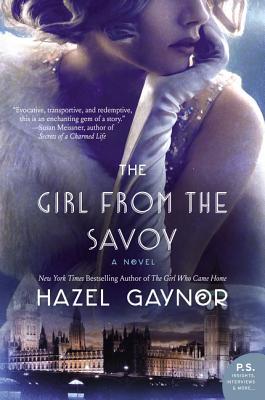 What's the Story?:
From Goodreads.com: "

Dolly Lane is a dreamer; a downtrodden maid who longs to dance on the London stage, but her life has been fractured by the Great War. Memories of the soldier she loved, of secret shame and profound loss, by turns pull her back and spur her on to make a better life.
When she finds employment as a chambermaid at London's grandest hotel, The Savoy, Dolly takes a step closer to the glittering lives of the Bright Young Things who thrive on champagne, jazz and rebellion. Right now, she must exist on the fringes of power, wealth and glamor—she must remain invisible and unimportant.
But her fortunes take an unexpected turn when she responds to a struggling songwriter's advertisement for a 'muse' and finds herself thrust into London's exhilarating theatre scene and into the lives of celebrated actress, Loretta May, and her brother, Perry. Loretta and Perry may have the life Dolly aspires to, but they too are searching for something.
Now, at the precipice of the life she has and the one she longs for, the girl from The Savoy must make difficult choices: between two men; between two classes, between everything she knows and everything she dreams of. A brighter future is tantalizingly close—but can a girl like Dolly ever truly leave her past behind?"
"The Girl from The Savoy" is a historical fiction by Hazel Gaynor. It's set in the 1920s in London and is told from the perspective of three characters. It is the story of Dolly, a young woman who dreams about being on stage singing and dancing. For right now, she is a maid at one of the nicest hotels in London, The Savoy. There is also Loretta May, a woman who is already famous on the stage. The third narrator is Teddy, Dolly's first great love. This is a story of love and making a life for one's self under the constant shadow of war.
Oh, the 1920s in one of my favorite cities of the world - this book drew me in from the beginning. There are so many parallels between Dolly and Loretta. Dolly is striving to be a singer. Loretta already has made it. Both of them have been greatly affected by the war. Although Teddy is Dolly's boyfriend, I was a bit confused by his part in the story. Dolly and Loretta have so much in common and Teddy's narrative was vastly different. It was a bit jarring to go from Dolly or Loretta to his narrative.
I loved the setting! The 1920s in London are so exciting. I thought the author did a really good job of showing the glitz and glamour of the decade set against the shadow of war that still is affecting the characters even though the war is over. It was interesting to see what London was like during that time period.
Overall, this was a great introduction to Gaynor and I would really like to read more from her going forward. She has a great way with creating characters and evoking a very vivid time and place!