Title: The Beauty Queen of Jerusalem
Author: Sarit Yishai-Levi
Format: Hardcover
Publisher: Thomas Dunne
Publish Date: April 5, 2016
Source: Publisher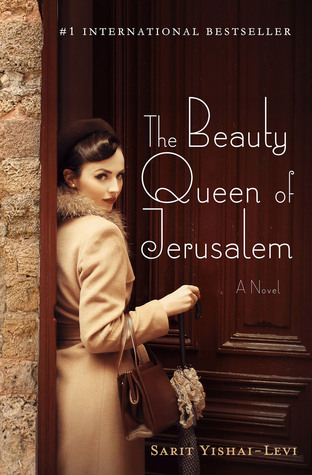 What's the Story?:
From Goodreads.com: "Gabriela's mother Luna is the most beautiful woman in all of Jerusalem, though her famed beauty and charm seem to be reserved for everyone but her daughter. Ever since Gabriela can remember, she and Luna have struggled to connect. But when tragedy strikes, Gabriela senses there's more to her mother than painted nails and lips.
Desperate to understand their relationship, Gabriela pieces together the stories of her family's previous generations—from Great-Grandmother Mercada the renowned healer, to Grandma Rosa who cleaned houses for the English, to Luna who had the nicest legs in Jerusalem. But as she uncovers shocking secrets, forbidden romances, and the family curse that links the women together, Gabriela must face a past and present far more complex than she ever imagined."
My Two Cents:
"The Beauty Queen of Jerusalem" takes on the complicated relationships between mothers and daughters. It explores the relationship between a great grandmother, grandmother, mother, and daughter. Each of these women are very different from each other and very different in the way that they interact with the world. All of these relationships are set against a rapidly changing Israel. For those that want to get deep into family relationships and how those relationships can build us, break us, and change us! I was drawn tot the book by the relationships and they are so interesting and kept me turning the pages.
I loved the setting of the book. This book is very much character driven but Jerusalem and Tel Aviv and how they affect the women in the book almost become other characters! The detail of these places that the author includes really shows us who these women are and how they see themselves. I love visiting places in books that I haven't been to much before, Israel is definitely one of those places. The author did a great job of evoking place throughout the book.
I felt closest to Gabriela in the book. Much of the book is about her trying to deal with her making sense of her relationship with her mother. It's tumultuous and not always pretty. The narrative was a little difficult at times to follow due to the point of view changing. I had to keep turning back to figure out where we were, which took away a bit from the book. Even with all this, the story kept me engaged!