Title: Hello, I Love You
Author: Katie M. Stout
Format: Hardcover
Publisher: St. Martin's Griffin
Publish Date: June 9, 2015
Source: I received a copy from the publisher; however, this did not affect my review.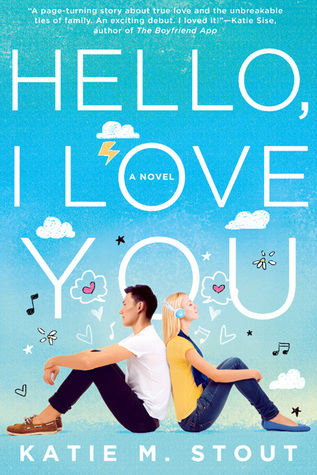 What's the Story?:
From Goodreads.com: "
A teen escapes to a boarding school abroad and falls for a Korean pop star in this fun and fresh romantic novel in the vein of Anna and the French Kiss.

Grace Wilde is running—from the multi-million dollar mansion her record producer father bought, the famous older brother who's topped the country music charts five years in a row, and the mother who blames her for her brother's breakdown. Grace escapes to the farthest place from home she can think of, a boarding school in Korea, hoping for a fresh start.

She wants nothing to do with music, but when her roommate Sophie's twin brother Jason turns out to be the newest Korean pop music superstar, Grace is thrust back into the world of fame. She can't stand Jason, whose celebrity status is only outmatched by his oversized ego, but they form a tenuous alliance for the sake of her friendship with Sophie. As the months go by and Grace adjusts to her new life in Korea, even she can't deny the sparks flying between her and the KPOP idol.

Soon, Grace realizes that her feelings for Jason threaten her promise to herself that she'll leave behind the music industry that destroyed her family. But can Grace ignore her attraction to Jason and her undeniable pull of the music she was born to write?"
My Two Cents:
In "Hello I Love You," Grace just wants to run away from her family. Her father is a big time record executive and her brother is a troubled musician. To top it all off, Grace is trying to run away from her ex-boyfriend, who seems to have his eyes on every other girl in all of Tennessee. When Grace starts going to boarding school in South Korea, she doesn't speak a lick of Korean. She is in an entirely different world and she doesn't understand the culture so when she meets KPOP star, Jason, she has no idea who he is but she falls for him very quickly (it's insta-love with a slight twist). As it is a story about growing up and finding your way and an unknown world.

I like this story mostly for the setting. I always like reading books that are set in places that are new to me or that I have an interest in. South Korea is utterly fascinating to me so I was excited for it. I thought that the setting would play a little more of a role in the book. It really doesn't except for the fact that Grace seems to hate it. Throughout this book, Grace is definitely going through culture shock and so she seems to be very judgemental of South Korea and never really seems to want to get to know the country. It was very frustrating for me because there were a lot of cases were some of the things that she said made me think that she was sort of being a stereotypical ugly American and she never really got past that, which had me wondering what role the setting truly played. I kept waiting for her to begin to grow or change but it doesn't happen. It was very frustrating!

I did like the love story between Grace and Jason. At first they really don't care for each other but Grace is attracted to him. I didn't care for that insta-love in this book but the way that the characters didn't get together right away sort of made up for it. The real part of the story that appealed to me was the part about what was going on with Jason and what was going on with Grace's family. This definitely added a little bit more depth to this book!

This book was a mixed bag for me. I like the setting and I understand that to some degree a person is not always going to like going into other countries. But it didn't quite work for me to have the main character be so unresponsive and so dismissive to the setting. It almost made the setting feel like it was merely there so this love story could have an exotic locale. I wanted to like this book more!