Title: The Devil in the White City
Author: Erik Larson
Format: Paperback
Publisher: Vintage
Publish Date: February 4, 2004
Source: Owned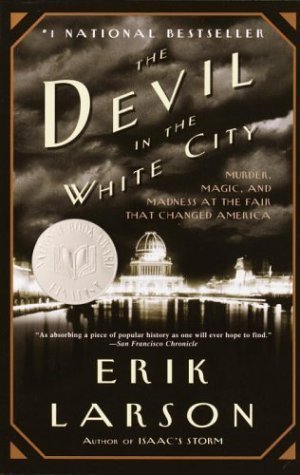 What's the Story?:
From Goodreads.com: "
Bringing Chicago circa 1893 to vivid life, Erik Larsen's spell-binding bestseller intertwines the true tale of two men--the brilliant architect behind the legendary 1893 World's Fair, striving to secure America's place in the world; and the cunning serial killer who used the fair to lure his victims to their death. Combining meticulous research with nail-biting storytelling. Erik Larsen has crafted a narrative with all the wonder of newly discovered history and the thrills of the best fiction."
My Two Cents:
"The Devil in the White City" is a gripping true crime, historical story about the 1893 World's Fair in Chicago. The World's Fair was a chance for America to put on a show for the rest of the world to rival some of the greatest cities in the world such as Paris. This is one of those stories that you have to keep reminding yourself that it is actually a true story just because it is so fantastic.

This is the first book that I have read by Erik Larson but it will not be the last. Someone had given my husband, an architect, this book for a gift and it was one of those books that I always meant to get around to reading. I finally had a chance to read it when we were actually in Chicago last year (anyone else have this thing where they really like reading books in the places where they're set? I love it! It really adds something to my reading experience!)

I really liked the way that Larson was able to weave together a lot of great historical detail into a really engaging narrative. The planners of the World's Fair wanted to create the most spectacular spectacle that the world had ever seen. Meanwhile, the whole thing threatens to collapse when a horrible murderer threatens the city of Chicago.

Larson moves back and forth between the lead-up to the World's Fair and the murders. I loved this juxtaposition! On one hand, you have a group of great minds trying to bring order to chaos. On the other hand, you have a deranged mind bent on bringing chaos. It was so cool! Overall, this was a really great story!