Title: Wallis in Love: The Untold Life of the Duchess of Windsor, the Woman Who Changed the Monarchy
Author: Andrew Morton
Format: Hardcover
Publisher: Grand Central Publishing
Publish Date: February 13, 2018
Source: Publisher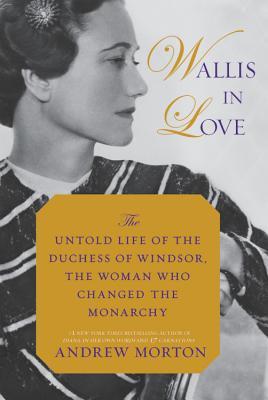 What's the Story?:
From Goodreads.com: ""You have no idea how hard it is to live out a great romance." -Wallis Simpson
Everyone has heard of Wallis Simpson, the woman for whom Edward VIII so infamously abdicated his throne and birthright. But although her life has constantly been the subject of much fascination, gossip, and speculation, her whole story has yet to be told. Now historical biographer Andrew Morton uses diary entries, letters, and other never-before-seen records to offer a fresh portrait of Wallis Simpson in all her vibrancy and brazenness as she climbed the social ladder, transforming from a hard-nosed gold digger to charming chatelaine.

Morton takes us through the cacophonous Jazz Age, a period of casual sex, cocaine, and screeching trombones; Wallis's romantic adventures in Washington and friendship with Eleanor Roosevelt; her exploits in China and beyond; to her entrance into the strange wonderland that is London Society. During her journey, we meet an extraordinary array of characters, many of whom smoothed the way for her dalliance with the king of England, Edward VIII, and we gain insights into the personality and motivations of a complex, domineering woman striving to determine her own fate in a harsh, turbulent world."
My Two Cents:
"Wallis in Love" explores the life of Wallis Simpson, the woman who changed the course of the British Monarchy. Twice divorced, she charmed Edward VIII who ended up abdicating the throne. It was supposed to be a great love story but in many ways, it seemed only to imprison Wallis and Edward. Fairy tales are not always what they seem!

I love all things related to royalty so when I heard that Andrew Morton was coming out with this book, I jumped at the chance to read it! I knew about Wallis meeting Edward and I knew about the abdication debacle but I didn't realize until I dove into this book how little I knew about Wallis. This book traces all the way back to when she was a little girl and it was fascinating to see the transformation from the girl from Baltimore to one of the most controversial women in history with regard to the British monarchy.

Morton both lays out who Wallis was and who she wasn't. People all across the world were very concerned when Edward abdicated. I was interested especially in the way that politicians worldwide were concerned about what the abdication might do in shaking up the political order of the world even with the monarch being perhaps the spiritual leader of the country but not the political leader.

Morton also squashes some of the rumors that were spread about Wallis at the height of abdication mania. Like many women in the public eye, she had a lot of pretty hurtful rumors spread about her. Some seemed to bother her more than others. I liked seeing what was true and untrue and why certain rumors seemed to shake the public's psyche, while others were put to rest rather quickly.

Overall, this was a good look at Wallis and will interest my fellow royal watchers!