Title: The Phantom's Apprentice
Author: Heather Webb
Format: Ebook
Publisher: Sonnet Press
Publish Date: February 6, 2018 (This week!!!)
Source: HFVBT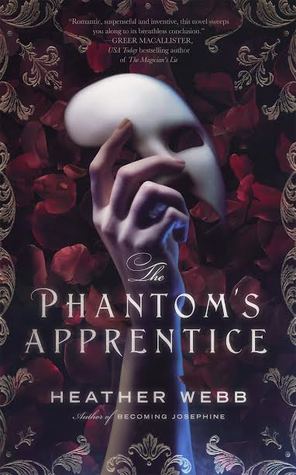 What's the Story?:
From Goodreads.com: "

In this re-imagining of Phantom of the Opera, meet a Christine Daaé you've never seen before…
Christine faces an impossible choice: be a star at the Paris opera as Papa always wanted, or follow her dream—to become a master of illusions. First, she must steal the secrets of the enigmatic master who haunts her, survive a world of treachery and murder, and embrace the uncertain promise of love. To succeed, she will risk her life in the grandest illusion of all."
"The Phantom's Apprentice" is the re-imagining of "The Phantom of the Opera." I was drawn to this book as I am a huge fan of musicals and grew up enchanted with Andrew Lloyd Weber's Phantom. In fact, it was the very first musical that I saw on stage! That being said, I have never read Gaston Leroux's original book so some parts in the book were new to me. This was an exciting story that added a little more depth to the story of the Phantom for me.
This book started out a little slowly for me. It really picked up once Christine is selected to become a part of the Opera company. And then the book gets very exciting as Christine discovers who her Angel of Music really is and more about his back story. I really liked that there is a large dose of magic and illusions throughout the book. This acts as a kind of thread to bind the book together - definitely an exciting take!
I really liked that the story was told from Christine Daae's perspective. Even though she is one of the main characters in the musical, musicals are not great for fleshing out characters so I loved getting a better sense of her in this book. She is much stronger than she seemed in the musical, which I liked. It was fascinating to see how she deals with all that she goes through in this book. You really get to see her change throughout the book as she grows a little older and more savvy about the world that she is surrounded by.
Overall, I enjoyed this retelling! Although it started a little slowly, I enjoyed it.