Title: The French Girl
Author: Lexie Elliott
Format: ARC
Publisher: Berkley Books
Publish Date: February 20, 2018 (Today!)
Source: Publisher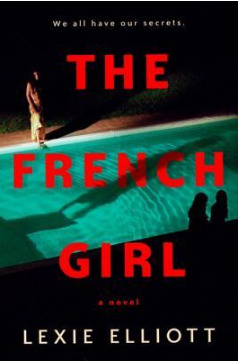 What's the Story?:
From Goodreads.com: "They were six university students from Oxford--friends and sometimes more than friends--spending an idyllic week together in a French farmhouse. It was supposed to be the perfect summer getaway--until they met Severine, the girl next door.

For Kate Channing, Severine was an unwelcome presence, her inscrutable beauty undermining the close-knit group's loyalties amid the already simmering tensions. And after a huge altercation on the last night of the holiday, Kate knew nothing would ever be the same. There are some things you can't forgive, and there are some people you can't forget, like Severine, who was never seen again.

Now, a decade later, the case is reopened when Severine's body is found in the well behind the farmhouse. Questioned along with her friends, Kate stands to lose everything she's worked so hard to achieve as suspicion mounts around her. Desperate to resolve her own shifting memories and fearful she will be forever bound to the woman whose presence still haunts her, Kate finds herself buried under layers of deception with no one to set her free."
My Two Cents:
In "The French Girl," once upon a time, Kate and her group of friends from Oxford vacationed in France. They had a hanger-on in the form of Severine, a mysterious French girl who threatens to topple the sort of balance that the group has found. When Severine ends up dead, the friends are questioned. Nothing turns up at first and the friends go their separate ways. They never expect that Severine will continue to haunt them all.

This is a thriller but it's much more quiet and there is a very slow build throughout the book. I did find myself wishing that things would move a little bit faster throughout the book. The story line is also very much focused on the present and I wanted to know more about how the group of friends was when they were actually friends. When we meet them in present day, it was hard to see what made them work as a group - they seem so different.

I also found myself wanting to know more about the characters. We see how they interact with each other but it felt like readers are held at arms length throughout the book. We get to know Kate a little bit better as we see the action through her eyes.

Overall, I did like that this book keeps you guessing but I was looking for something to invest in more!