Title: A Treacherous Curse
Author: Deanna Raybourn
Format: Hardcover
Publisher: Berkley
Publish Date: January 16, 2018
Source: Publisher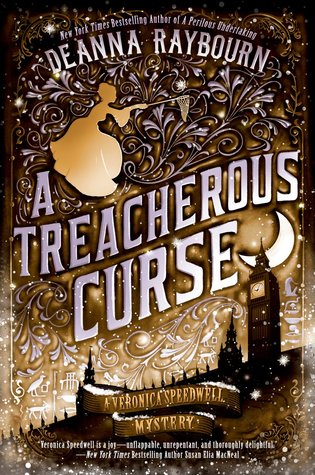 What's the Story?:
From Goodreads.com: "As colorful and unfettered as the butterflies she collects, Victorian adventuress Veronica Speedwell can't resist the allure of an exotic mystery—particularly one involving her enigmatic colleague, Stoker. His former expedition partner has vanished from an archaeological dig with a priceless diadem unearthed from the newly discovered tomb of an Egyptian princess. This disappearance is just the latest in a string of unfortunate events that have plagued the controversial expedition, and rumors abound that the curse of the vengeful princess has been unleashed as the shadowy figure of Anubis himself stalks the streets of London.

But the perils of an ancient curse are not the only challenges Veronica must face as sordid details and malevolent enemies emerge from Stoker's past. Caught in a tangle of conspiracies and threats—and thrust into the public eye by an enterprising new foe—Veronica must separate facts from fantasy to unravel a web of duplicity that threatens to cost Stoker everything. . . ."
My Two Cents:
"A Treacherous Curse" is the third book in Deanna Raybourn's super fun Veronica Speedwell series. In this book, Veronica and Stoker are back and this time they are investigating what happened to ancient relic: a diadem from the heart of an Egyptian pyramid. This may be their most trying (and most entertaining mystery yet.

Although this is the third book in the series, it can definitely be read as a standalone. But I have to wonder, why would you do that to yourself? This is a very fun series with two great characters at the helm. Veronica and Stoker have great chemistry and it is so much fun to watch them play off of each other all while solving a mystery that threatens to get them or those they love into trouble. The banter back and forth is so entertaining and there were definitely some laugh out loud moments for me throughout the book.

I really thought this was the most interesting mystery so far. Veronica and Stoker have to deal with some pretty eccentric characters who are all seemingly into Egyptology at first or are they? These characters helped make the story a little bit more rich than just a plain old mystery!