Title: A Man Called Ove
Author: Fredrik Backman
Format: Paperback
Publisher: Atria Books
Publish Date: July 15, 2014
Source: Owned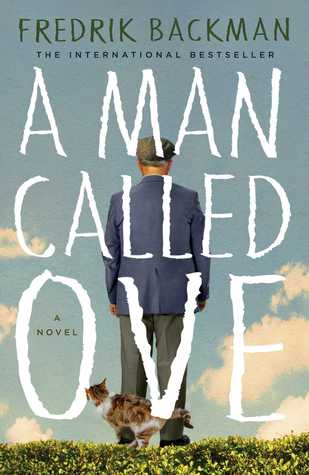 What's the Story?:
A grumpy yet loveable man finds his solitary world turned on its head when a boisterous young family moves in next door.

Meet Ove. He's a curmudgeon, the kind of man who points at people he dislikes as if they were burglars caught outside his bedroom window. He has staunch principles, strict routines, and a short fuse. People call him the bitter neighbor from hell, but must Ove be bitter just because he doesn't walk around with a smile plastered to his face all the time?

Behind the cranky exterior there is a story and a sadness. So when one November morning a chatty young couple with two chatty young daughters move in next door and accidentally flatten Ove's mailbox, it is the lead-in to a comical and heartwarming tale of unkempt cats, unexpected friendship, and the ancient art of backing up a U-Haul. All of which will change one cranky old man and a local residents' association to their very foundations.
My Two Cents:
"A Man Called Ove" is one of those books that had a huge following before I ever got around to reading it. After reading it, I knew exactly why this book had such a big following. This is a warm hearted story about an old man named Ove. He misses his wife and has lost his zest for life. His days consist of planning his death so when he has new neighbors move next door who won't take no for an answer when it comes to involving him in their life, he begins to see that there can be more (but he's not going to move towards being open without kicking and screaming).

This book was my first Fredrik Backman read and now he is on my auto-read list. This book has such great characters. Ove is such a curmudgeon but even before he turns over a new leaf, you can't help but to fall for him a little bit. You feel for his plight and want things to change for him. One of the things that I loved most about this book is how Backman takes a character that at first seems to have very few redeeming qualities and slowly gives you detail to both enlighten you to the character's background and begin to turn you towards the character.

I think that is one of Backman's hallmarks after reading a few of his other books is that he creates really amazing characters that feel real. Their feelings feel real, their actions feel real.

This was a great story! It would be a good pick for when you're looking for a story to give you the warm and fuzzies!