Title: After You
Author: Jojo Moyes
Format: Hardcover
Publisher: Pamela Dorman Books
Publish Date: September 29, 2015
Source: Owned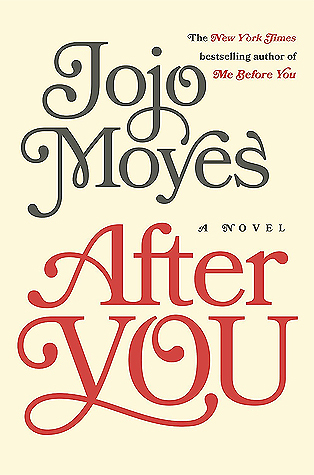 What's the Story?:
From Goodreads.com: "How do you move on after losing the person you loved? How do you build a life worth living?

Louisa Clark is no longer just an ordinary girl living an ordinary life. After the transformative six months spent with Will Traynor, she is struggling without him. When an extraordinary accident forces Lou to return home to her family, she can't help but feel she's right back where she started.

Her body heals, but Lou herself knows that she needs to be kick-started back to life. Which is how she ends up in a church basement with the members of the Moving On support group, who share insights, laughter, frustrations, and terrible cookies. They will also lead her to the strong, capable Sam Fielding—the paramedic, whose business is life and death, and the one man who might be able to understand her. Then a figure from Will's past appears and hijacks all her plans, propelling her into a very different future..."
My Two Cents:
After reading "Me Before You," I wasn't sure how there could possibly be a sequel (and now a whole trilogy). I loved Lou and did wonder about what would have happened to her after Will died but didn't want the perfection of the first book to be ruined. I hesitantly picked up this book and was thrilled to realize that this book is a worthy follow on to "Me Before You." It didn't make me feel the same way but still elicited some pretty powerful emotions and made for a good read.

The action in this book picks up over a year since Will passed away and Lou is having trouble finding her purpose. Estranged from her parents, she floats away her days in a mindless job at a Irish themed restaurant at an airport. Her wake up call comes when she falls off a roof, which will set into motion a course of events that will change her life for the better and prove that she can be the master of her own destiny while bringing light to those around her.

There are many familiar characters from the previous book but also a good deal of new ones that will help shake Lou awake. Some of them I can't tell you about because it would give too much of the story away but know that Moyes has some good twists up her sleeves with regard to some of the characters. Lou continued to be such a great character. She is so caring and I remembered quickly why I cared about her destiny so much.

So the obvious question is perhaps whether or not you should read this book before reading "Me Before You." While Moyes does a good job of introducing the characters, even the ones that were in "Me Before You" so that a new reader would not feel left out, I do think you should read the first book first in order to feel the full force of the emotional punch of this book. "Me Before You" is still a book that I think about a lot and that you should read it if you haven't gotten the chance yet.

Even after this book, I still am not ready to let go of these characters so I am very excited that the third book is this now trilogy is almost out!