Title: Torn
Author: K.A. Robinson
Format: Ebook
Publisher: Atria
Publish Date: May 7, 2013
Source: Owned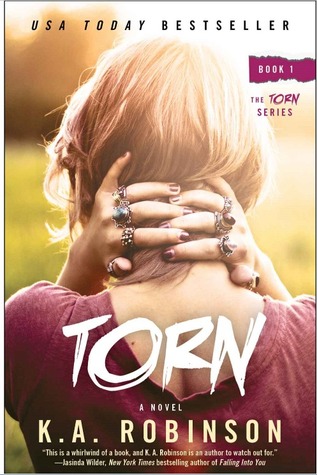 What's the Story?:
From Goodreads.com: "
Chloe hasn't had the best life. With a mother who is gone more often than not, she has had to raise herself. After graduating high school, she leaves to start a new life away at West Virginia University with her best friends Amber and Logan, determined to leave her demons in the past.

On her first day, she meets a stranger who takes her breath away at first sight. Until she met Drake, no one had ever sparked her interest. Now this tattooed and pierced bad boy is all she can think about, no matter how hard she fights it.

Falling for Drake was never part of her plans, but when it happens, things seem to do anything but fall into place.

Dealing with a tragic past, Drake has never cared about anyone else but himself and his band. But when Chloe takes the empty seat next to him in class, things start to change. Instantly drawn to her, he begins to wonder if one girl can take a cold hearted womanizer and change every part of him?

Long hidden feelings are revealed and friendships tested to the brink."
My Two Cents:
"Torn" is a new adult fiction about Chloe, who hasn't always had the easiest life. Her mother has been in and out of her life and always seems to come back just to stir up trouble. She finds herself at WVU with her two best friends including Logan, who she has feelings for her but has never acted on in order to not ruin their friendship. Chloe then meets Drake, the cool lead singer of a band, and falls for him quickly. This forces Logan to announce his feelings and Chloe will find herself torn between the dangerous choice, Drake, and the safe choice, Logan.

There aren't really any surprises in this book. Sometimes you don't need surprises in order for a book to still be enjoyable. The new adult genre is still new to me but I have a lot of fun reading books from it. Because I could see exactly where the book was going and there were no surprises, this book felt a little less exciting for me but it was still entertaining. I really liked how the author was able to create to such different choices for Chloe. Both are incredibly sexy in their own way but completely different from each other. It's easy to see why she was so torn between them. Add to the story the droma with Chloe's mom and I ate this book up. This book is one of those books that would be perfect for the last dredges of summer or whenever you find yourself on vacation.