Title: The Vacationers
Author: Emma Straub
Format: Hardcover
Publisher: Riverhead Books
Publish Date: May 29, 2014
Source: Library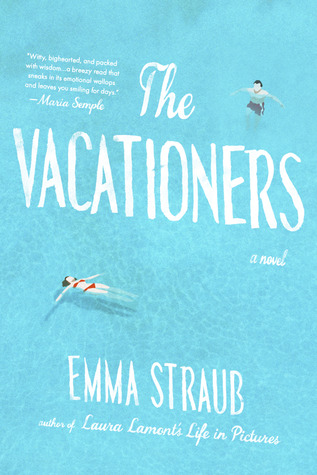 What's the Story?:
From Goodreads.com: "
For the Posts, a two-week trip to the Balearic island of Mallorca with their extended family and friends is a celebration: Franny and Jim are observing their thirty-fifth wedding anniversary, and their daughter, Sylvia, has graduated from high school. The sunlit island, its mountains and beaches, its tapas and tennis courts, also promise an escape from the tensions simmering at home in Manhattan. But all does not go according to plan: over the course of the vacation, secrets come to light, old and new humiliations are experienced, childhood rivalries resurface, and ancient wounds are exacerbated."
My Two Cents:
"The Vacationers" by Emma Straub is the story of the Post family. On the surface, the Post family at first glance looks like a normal family that gets along. Franny, the mother, it thinks that it would be a good idea for the family to take a vacation together. The vacation doesn't turn out the way that they wanted to and their true colors will show before long. This is a story of family dysfunction and how secrets and tensions can only stay under the surface for so long

This book was a mixed bag for me. I really like the setting of Mallorca. I love reading about different places and Mallorca seems like a gorgeous place to visit. This is in stark contrast to the dysfunction that the post family is facing. The setting almost becomes another character in the book, which I really liked.

On the other hand I had a really difficult time getting close to the characters. I felt that I was being held at arms distance as their actions of the story went on. There wasn't really any character that I felt super close to or found myself caring about what happened to them. The characters seem very tied up in themselves which leads to some of the conflict in the book. I don't believe you have to like characters in order to like a book. Sometimes the most horrible characters are the best to read about. I really wish that I would've gotten a better glimpse as to what the motivations were for each of the characters. I wanted more!