Title: House of Thieves
Author: Charles Belfoure
Format: ARC
Publisher: Sourcebooks Landmark
Publish Date: September 15, 2015
Source: Publisher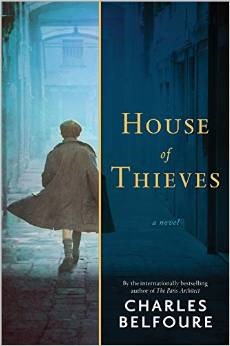 What's the Story?:
From Goodreads.com: "
In 1886 New York, a respectable architect shouldn't have any connection to the notorious gang of thieves and killers that rules the underbelly of the city. But when John Cross's son racks up an unfathomable gambling debt to Kent's Gents, Cross must pay it back himself. All he has to do is use his inside knowledge of high society mansions and museums to craft a robbery even the smartest detectives won't solve. The take better include some cash too —the bigger the payout, the faster this will be over.
With a newfound talent for sniffing out vulnerable and lucrative targets, Cross becomes invaluable to the gang. But Cross's entire life has become a balancing act, and it will only take one mistake for it all to come crashing down —and for his family to go down too."
My Two Cents:
"House of Thieves" is the story of the Cross family, a well to do family living in the late 1800s in the middle of New York City. On the surface, the family looks to be a upstanding family, however, they hide a lot of dark secrets. Each member of the family is involved with some of the crime facing the city at the time. They all hide this from each other and begins to affect off of their relationships.
This is the second book from Charles Belfoure. I loved his first book so I was definitely looking forward to reading this book. I think I may have like this one even more. It was so interesting to me to see how the family got twisted up in some of the sordid activity is happening throughout the city. This family goes through great lengths to keep up appearances but are not above committing crimes in order to get what they want. I liked following each of the members of the family and liked how well developed the characters were!
Like I said before, each member of the family is involved with crime. I think the most interesting character is John Cross, who is an architect to uses his clients houses and the plans that he developed for them in order to help one of the my bosses of the city proper houses. He is such a complex character because on one hand he doesn't want to commit these crimes but he definitely gets caught up in all of it. I loved reading about him!
The writing of this book was great. Belfoure has a fantastic way of taking historical detail and weaving it so well into the story that you hardly realize how much detail he's packing in. He is able to world build well so that the reader knows exactly what the Cross family's life is like and everything that they're experiencing. This book is a real treat for historical fiction fans!