Title: Summer House with Swimming Pool
Author: Herman Koch
Format: ARC
Publisher: Hogarth
Publish Date: June 3, 2014
Source: I received a copy from the publisher; however, this did not affect my review.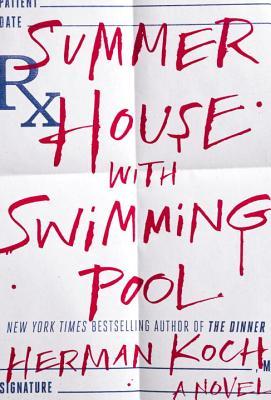 What's the Story?:
From Goodreads.com: "
When a medical mistake goes horribly wrong and Ralph Meier, a famous actor, winds up dead, Dr. Marc Schlosser is forced to conceal the error from his patients and family. After all, reputation is everything in this business. But the weight of carrying such a secret lies heavily on his mind, and he can't keep hiding from the truth…or the Board of Medical Examiners.
The problem is that the real truth is a bit worse than a simple slipup. Marc played a role in Ralph's death, and he's not exactly upset that the man is gone. Still haunted by his eldest daughter's rape during their stay at Ralph's extravagant Mediterranean summerhouse-one they shared with Ralph and his enticing wife, Judith, film director Stanley Forbes and his far younger girlfriend, Emmanuelle, and Judith's mother-Marc has had it on his mind that the perpetrator of the rape could be either Ralph or Stanley. Stanley's guilt seems obvious, bearing in mind his uncomfortable fixation on the prospect of Marc's daughter's fashion career, but Marc's reasons for wanting Ralph dead become increasingly compelling as events unravel. There is damning evidence against Marc, but he isn't alone in his loathing of the star-studded director."
Herman Koch's latest English release, "Summer House with a Swimming Pool" is a mystery that kept me guessing until the last page. While mysteries and thrillers are not my usual reading fare, I really enjoyed Koch's "The Dinner" and was looking forward to "Summer House with a Swimming Pool" because of that. While I believe that I liked "The Dinner" a little bit better, I still really enjoyed this book.
Mark is a doctor. He's found that the way to get his patients to believe that he is a good doctor is to simply spend time with them. When he gets tied up with Ralph, a famous actor, and his family, Mark uses those skills to ingratiate himself with the Meier's. He is intrigued by their lifestyle. Everything comes to a head when Mark, his wife, and their two daughters (a teen and pre-teen) go to spend time with Ralph's family at their beautiful summer home. No one can understand how that trip will change the life of everyone involved.
This book would make a perfect summer read. Although some of the subject matter is a little hard (teenagers potentially being raped, murder by misdiagnosis, etc.), it is definitely a page turner and kept me on my toes. As with "The Dinner," a lot of the conflict focuses on ethics and morals, which is what I really liked about this book. It definitely makes you question what is reasonable, what is defendable, and what is understandable. Overall, this would be a good pick if you are looking for a fast paced read that will make you think a little bit even after you finish the last page.