Title: Curses and Smoke
Author: Vicky Alvear Shecter
Format: ARC
Publisher: Arthur A. Levine Books
Publish Date: May 27, 2014
Source: HF Virtual Book Tours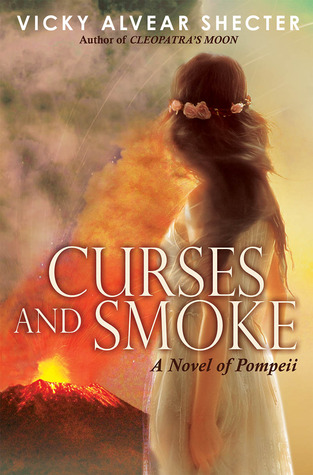 What's the Story?:
From Goodreads.com: "
When your world blows apart, what will you hold onto?
TAG is a medical slave, doomed to spend his life healing his master's injured gladiators. But his warrior's heart yearns to fight in the gladiator ring himself and earn enough money to win his freedom.
LUCIA is the daughter of Tag's owner, doomed by her father's greed to marry a much older Roman man. But she loves studying the natural world around her home in Pompeii, and lately she's been noticing some odd occurrences in the landscape: small lakes disappearing; a sulfurous smell in the air. . . .
When the two childhood friends reconnect, each with their own longings, they fall passionately in love. But as they plot their escape from the city, a patrician fighter reveals his own plans for them -- to Lucia's father, who imprisons Tag as punishment. Then an earthquake shakes Pompeii, in the first sign of the chaos to come. Will they be able to find each other again before the volcano destroys their whole world?"
In "Curses and Smoke," author Vicky Alvear Shecter creates a wonderful young adult romance in the shadow of the famous destruction of the city of Pompeii by way of volcano. Lucia has lived a privileged life even if it is under the shadow of her very tough father, who seems both cool and distant when it comes to listening what Lucia wants for her future. He's just not that interested if it doesn't fall into the plans that he already has for her. Tag's life is limited by the fact that he's a slave and he just might have a curse on him. Lucia and Tag know that they should not want to be together but love is a strange thing that hits you when you least expect it.
I loved the love story between Lucia and Tag. Both of them are great characters. Lucia wants so much more for her life than just what her father wants for her. She wants to be educated and she wants to educate others. She wants to be happy and marry who she wishes instead of the old man (who may be cruel) that her father wishes for her to marry. Tag was especially interesting to me because he's a healer and he is also a slave. For what ever reason, I really, really like reading about healers and medics in historical fiction and non-fiction. I'm endlessly fascinated by what they practiced and what they thought about what would heal or hurt. I also thought it was so interesting to read about his slavery. In this day and age, doctors are revered and they make a ton of money. This is most definitely a severe contrast from Tag's day. I didn't really know that a healer would be part of the slave class and you all know how I love learning something new! Shecter had a really good way of engaging the reader with these characters and really making you care about them.
The historical detail in this book was really good as well. Pompeii is still very fascinating to so many people today. Next time I go to Italy, I would really like to go to Pompeii (no time last time!) to see the site. It was a true tragedy and Shecter captures that through her writing. I loved all of the different details, which really helped me to understand the event in a different way.
While I liked the story, I wished that the end of the story had some more concreteness to it. I really, really don't want to give anything away so allow me to be vague but I sort of wanted to know what happened after the book ended. And that's all I can really say because saying anything else would be giving too much away and you all should read this book... so... yeah!
You could win a copy of this book (U.S, UK, CAN only)!
a Rafflecopter giveaway