Title: The Fault in Our Stars
Author: John Green
Format: Hardcover
Publisher: Dutton Books
Publish Date: January 10, 2012
Source: Owned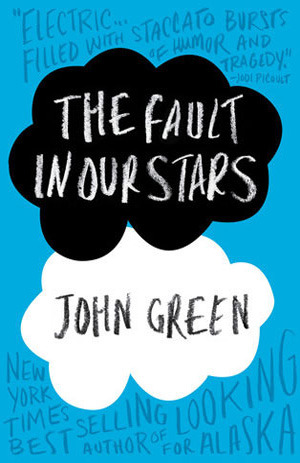 From Goodreads.com: "
Despite the tumor-shrinking medical miracle that has bought her a few years, Hazel has never been anything but terminal, her final chapter inscribed upon diagnosis. But when a gorgeous plot twist named Augustus Waters suddenly appears at Cancer Kid Support Group, Hazel's story is about to be completely rewritten."
"The Fault in Our Stars" is a book that I waited much, much too long to read. It is so good and I really wish that I had read it earlier just because it is so absolutely fantastic. I feel like I might have been one of the few people out there that hadn't read this book and for the few of This book moved me in a lot of ways that I haven't been moved by a book in awhile. I don't know where to even start with talking about this book because
I love the characters in this book so much. Hazel and Augustus are both really wonderful characters. The author could have turned them into really whiny characters who are not willing to deal with their issues but he takes these teenaged characters and turns them into characters that are totally three-dimensional. Hazel has been dealing with her cancer for so long that she is totally jaded about the whole situation. Augustus shows her that there is so much more that she can do to change how she feels about her situation. These characters felt so very real to me. You are pulling for them so hard throughout the entire book that it makes the ending just that much more moving (and devastating).
It is not hard to see why so many people love this book (count me firmly as one of them). Green creates a memorable story that I know that I am going to want to revisit in the future. This is the second book that I have read by this author and this book has only proven to me that I need to read more by him in the future!