Title: Have Mother, Will Travel
Authors: Claire Fontaine and Mia Fontaine
Publisher: William Morrow
Publish Date: July 17, 2012
Source:
TLC Book Tours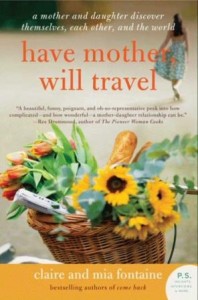 Why You're Reading This Book:
You love family stories.
You like memoirs.
You're an armchair traveler.
What's the Story?:
From Goodreads.com: "
A mother, a daughter, and a life-changing adventure around the world . . .

Their bestselling memoir, Come Back, moved and inspired readers with the story of Mia Fontaine's harrowing drug addiction and her mother, Claire's, desperate and ultimately successful attempts to save her. Now it's a decade later and Claire and Mia each face a defining moment in her life, and a mother-daughter relationship that has frayed around the edges. At fifty-one, Claire's shed her identity as Mia's savior but realizes that, oops, she forgot to plan for life after motherhood; Mia, twenty-five and eager to step outside her role as recovery's poster child, finds adult life isn't all it's cracked up to be. Determined to transform themselves and their relationship once again, the pair sets off on a five-month around-the-world adventure.

What awaits them is an extraordinary, often hilarious journey through twenty cities and twelve countries--one that includes mishaps, mayhem, and unexpected joys, from a passport-eating elephant to a calamitous camel ride around the Pyramids--and finally making peace with their tumultuous past in the lavender fields of France, where they live for the last four months of the trip. Seeing how self-possessed and community-minded twentysomethings are in other countries broadens Mia's perspective, helping her grow, and grow up. Claire uses the trip to examine her broken relationship with her own mother, a Holocaust survivor, and to create a vision for her second act. Watching her mom assess half a century of life, Mia comes to know her as Claire has always known Mia--as all mothers know their daughters--better than anyone else, and often better than themselves.

Wiser for what they've learned from women in other cultures, and from each other, they return with a deepened sense of who they are and where they want to go--and with each embracing the mature friendship they've discovered and the profound love they share.

Alternating between Claire and Mia's compelling and distinct voices, Have Mother, Will Travel is a testament to the power and beauty of the mother-daughter relationship, one that illuminates possibilities for our own lives."
My Two Cents:
"Have Mother, Will Travel" is a memoir by (perhaps unsurprisingly) a mother/ daughter duo. When they get a chance to go on a month long Amazing Race- esque trip that will take them to many different countries for a litany of experiences, they dive right in. They think that the trip may help to bring them closer together (and it does). This is the second book by the pair. The first book was called "Come Back," which explored the relationship between Claire and Mia as Mia is sent away to sort of a reform school in Europe after being sexual abused and dealing with drugs. I have not read this book and I don't think that you need to in order to enjoy "Have Mother, Will Travel." Although, I do want to read that book now to learn more about Claire and Mia's background. This book takes place about 10 years after "Come Back" and while time has passed, there still seems to be some healing that needed to happen between Claire and Mia

I am a big believer in the idea that you don't really know someone until you try to travel with them. You have a front row seat to learning their style, likes, dislikes, idiosycracies, and all sorts of other things that you may not get to see normally. Now obviously since Claire and Mia are mother and daughter, they already know a lot about each other. I really liked reading about how Claire and Mia deal with each other and their new surroundings. Family connections are always something that has interested me. There are a lot of really interesting and beautiful ruminations on this book on the mother and daughter relationship.

And of course, I loved reading about all of the fabulous places that Claire and Mia visit. I would so love to go on this kind of a vacation (although it is doubtful that I would ever be able to find a month to drop everything and travel the world; a girl can dream though). Claire and Mia get to experience some really amazing things together, which makes their journey just that much more special.

I think this book would be a perfect pick for Mother's Day for anyone that enjoys memoirs and traveling!
Follow the Rest of the Tour:
Tuesday, April 9th:
Write Meg
Wednesday, April 10th:
We Said Go Travel
Thursday, April 11th:
A Bookish Affair
Friday, April 12th:
Gone With the Family
Tuesday, April 16th:
Twisting the Lens
Wednesday, April 17th:
Book Dilettante
Wednesday, April 17th:
Walking on Travels
Thursday, April 18th:
Sara's Organized Chaos
Monday, April 22nd:
5 Minutes for Mom
Tuesday, April 23rd:
Peppermint PhD
Wednesday, April 24th:
Olduvai Reads
Monday, April 29th:
Great Imaginations
Tuesday, April 30th:
Book Club Classics!
Wednesday, May 1st:
The Book Garden