Title: The Highlander Who Protected Me
Author: Vanessa Kelly
Format: ARC
Publisher: Zebra
Publish Date: October 30, 2018
Source: HFVBT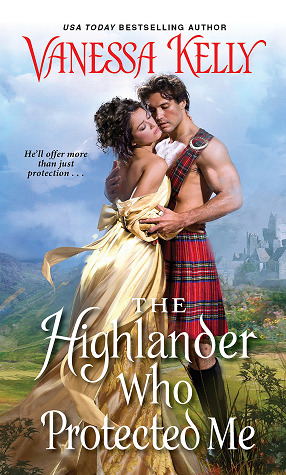 What's the Story?:
From Goodreads.com: "

Lady Ainsley Matthews, heiress and darling of the

ton

, was expected to make a magnificent match. Instead she's hiding on a remote Scottish estate, terrified that her vicious former fiancé will use her pregnancy to force her into marriage. One man can help her—Royal Kendrick, son of a distinguished Highland clan. Though a mistake drove them apart long ago, Royal is the only person Ainsley trusts to protect her baby—even if that means agreeing to never see either of them again . . .
Scarred in body and soul by war, Royal suddenly has a purpose—caring for an innocent babe and thereby helping the woman he can't stop loving. But when Ainsley ultimately returns to Scotland, determined to be a real mother to her child in spite of the risk, there's only one solution: marriage. And only one likely outcome: surrendering to the desire that's simmered between them for so long, no matter how dangerous it may be . . ."
In "The Highlander Who Protected Me," Ainsley realizes that she needs to revisit her painful past in order to save her future. Ainsley and Royal have always had an interesting relationship but when Ainsley ends up pregnant, she quickly realizes that she needs to put the past behind her in order to save her baby.
This book is part of a new series by Vanessa Kelly and was a spinoff of "The Highlander's Princess Bride," which I have not read yet. I am wondering if I would have gotten into this book quicker if I had read the previous series. The chemistry between Ainsley and Royal starts quickly with no build up. We know that they have met in the past but I didn't feel like I got a clear picture of how much that meeting meant or what it was like or how it would affect the characters.
That being said, I did like the chemistry between Ainsley and Royal. It definitely kept me wanting to read more. Royal is such a good character. He's strong, sensitive, and a great romantic lead. Ainsley is sassy and although she doesn't have much power as a woman, she uses everything she has in order to do what she needs to do in order to protect her daughter and find true love. I loved how Ainsley really shapes the relationship between Royal and herself.
Overall, this book started slow to me but became exciting as secrets were revealed and our main characters began to understand their past a little more.