Title: The Light Between Oceans
Author: M.L. Stedman
Format: Hardcover
Publisher: Scribner
Publish Date: July 30, 2012
Source: Library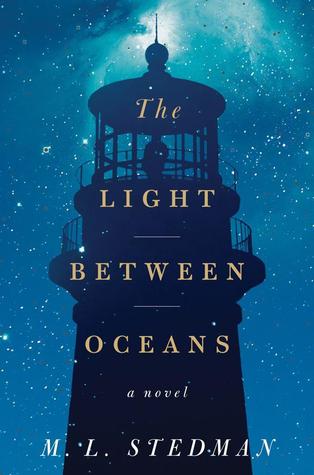 What's the Story?:
From Goodreads.com: "

After four harrowing years on the Western Front, Tom Sherbourne returns to Australia and takes a job as the lighthouse keeper on Janus Rock, nearly half a day's journey from the coast. To this isolated island, where the supply boat comes once a season and shore leaves are granted every other year at best, Tom brings a young, bold, and loving wife, Isabel. Years later, after two miscarriages and one stillbirth, the grieving Isabel hears a baby's cries on the wind. A boat has washed up onshore carrying a dead man and a living baby.
Tom, whose records as a lighthouse keeper are meticulous and whose moral principles have withstood a horrific war, wants to report the man and infant immediately. But Isabel has taken the tiny baby to her breast. Against Tom's judgment, they claim her as their own and name her Lucy. When she is two, Tom and Isabel return to the mainland and are reminded that there are other people in the world. Their choice has devastated one of them.
"The Light Between Oceans" is a historical fiction book that takes place in Australia. A couple is charged with keeping the lighthouse functioning on an island. It's just Isabel and Tom and no one else. Isabel longs for a baby but is not having any luck conceiving so when a boat washes up on the shore with a dead man and a baby, it seems like fate has brought the couple the baby that they long for. Isabel instantly takes to the baby even as Tom has misgivings about not trying to find the baby's family. The story follows what happens after Tom and Isabel try to raise the baby.
I really liked the setting of this book. Australia is not someplace that I seem to get to visit a lot in my reading. I did like the isolation of the setting and the way that the author described it. The setting and the lighthouse almost become other characters in the book. You wonder if Isabel would act the way she is acting and would hide the secrets that she was hiding if she and Tom were among other people.
The characters in the book are fascinating to me. In a way this book feels like a psychological study of two people who are trying to do what they feel is right. Isabel believes that keeping the child is automatically correct. And she pushes her view on Tom. Tom goes along with it. The book explores the fallout of that decision. This was a good read that kept me on my toes waiting to see what would happen to these characters.