Title: The Wrath & the Dawn
Author: Renee Ahdieh
Format: Hardcover
Publish: G.P. Putnam's Sons Books
Publish Date: May 12, 2015
Source: Library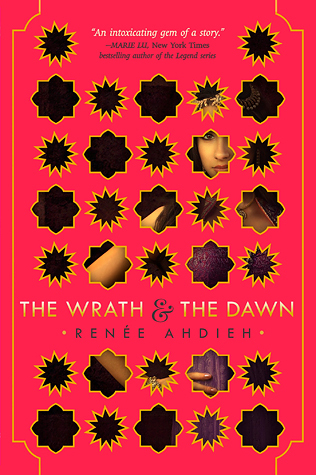 What's the Story?:
From Goodreads.com: "In a land ruled by a murderous boy-king, each dawn brings heartache to a new family. Khalid, the eighteen-year-old Caliph of Khorasan, is a monster. Each night he takes a new bride only to have a silk cord wrapped around her throat come morning. When sixteen-year-old Shahrzad's dearest friend falls victim to Khalid, Shahrzad vows vengeance and volunteers to be his next bride. Shahrzad is determined not only to stay alive, but to end the caliph's reign of terror once and for all.

Night after night, Shahrzad beguiles Khalid, weaving stories that enchant, ensuring her survival, though she knows each dawn could be her last. But something she never expected begins to happen: Khalid is nothing like what she'd imagined him to be. This monster is a boy with a tormented heart. Incredibly, Shahrzad finds herself falling in love. How is this possible? It's an unforgivable betrayal. Still, Shahrzad has come to understand all is not as it seems in this palace of marble and stone. She resolves to uncover whatever secrets lurk and, despite her love, be ready to take Khalid's life as retribution for the many lives he's stolen. Can their love survive this world of stories and secrets?"
My Two Cents:
"The Wrath and the Dawn) is a YA retelling of The Arabian Nights. It is the story of Shahrzad, the woman who beguiles Khaled, the Caliph of Khorasan. If you remember your Arabian nights tales you remembered that Khaled murders a new bride every dawn. Luckily, Shahrzad is incredibly resourceful and knows how to spin a good tale. Every night she tells a story that keeps the Caliph guessing and it also keeps Scherazade alive.

I am always on a quest for diverse books and this one fits the bill. This is a great retelling and I'm definitely a sucker for fairytale retellings. I love them all. I definitely like that this one took on a non-European fairytale that may be new to a lot of people. The author does a great job of creating vivid characters. You'll be cheering for Shahrzad the whole way. The author is even able to give the reader insight into Khaled and what makes him tick. This definitely pulled me into the book even more!

This book is the first in a series and I'm very much looking forward to reading the next book. I love the way that the author was able to bring this fairytale to life. You're rooting for Scherazade the entire time that she's telling her stories in the book definitely leaves you with a bit of a cliffhanger that kept me wanting more. Overall, this is a great story for those who love fairytale retellings and like them even better off the beaten path!