Title: The Strange Library
Author: Haruki Murakami
Format: Hardcover
Publisher: Knopf
Publish Date: December 2, 2014
Source: Library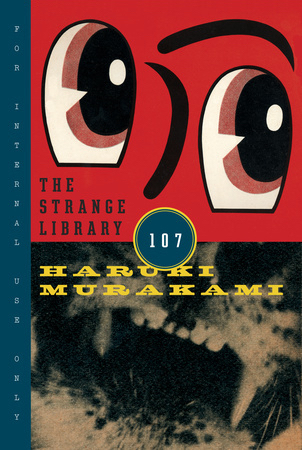 What's the Story?:
From Goodreads.com: "

Opening the flaps on this unique little book, readers will find themselves immersed in the strange world of best-selling Haruki Murakami's wild imagination. The story of a lonely boy, a mysterious girl, and a tormented sheep man plotting their escape from a nightmarish library, the book is like nothing else Murakami has written. Designed by Chip Kidd and fully illustrated, in full color, throughout, this small format, 96 page volume is a treat for book lovers of all ages."
My Two Cents:
"The Strange Library" by Haruki Murakami is a strange short story about a boy who goes to the library and is trapped. As with many of Murakami's stories, this story has a magical bend to it. Fans of his earlier works will probably enjoy this one too.
I am a really big fan of Murakami and I must say that this was not my most favorite book of his. Short stories are generally sort of mixed bag for me. I've started to read more short stories and there are some really great ones out there and so I had high hopes for this book. While I still enjoyed this book, I think one of the biggest strengths of Murakami's works are his descriptions and the way that he is able to make the unreal feel real. And in the short story format, he didn't really have a little whole lot of room to work with.
That being said, I think this book still filled the want for weirdness and the extraordinary that I is I am typically looking for whenever I pick up a book by Murakami. If you're interested in trying this author I would definitely suggest starting with some of his novels as it's in these bigger stories where he really shines.
One more thing: this didn't factor into my review of the book as I'm not one to judge a book by its cover but I must admit to you that I thought the binding of those book was really, really cool. Next time you're at your local library or bookstore, pick up the book and just look at the way that they binding was done. It's as strange as the story and very cool!