Title: A Passion for Paris: Romanticism and Romance in the City of Light
Author: David Downie
Format: Hardcover
Publisher: St. Martin's Press
Publish Date: April 28, 2015
Source: I received a copy from the publisher; however, this did not affect my review.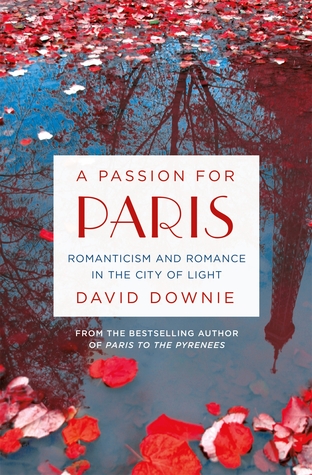 What's the Story?:
From Goodreads.com: "
Abounding in secluded, atmospheric parks, artists' studios, cafes, restaurants and streets little changed since the 1800s, Paris exudes romance. The art and architecture, the cityscape, riverbanks, and the unparalleled quality of daily life are part of the equation.

But the city's allure derives equally from hidden sources: querulous inhabitants, a bizarre culture of heroic negativity, and a rich historical past supplying enigmas, pleasures and challenges. Rarely do visitors suspect the glamor and chic and the carefree atmosphere of the City of Light grew from and still feed off the dark fountainheads of riot, rebellion, mayhem and melancholy—and the subversive literature, art and music of the Romantic Age.

Weaving together his own with the lives and loves of Victor Hugo, Georges Sand, Charles Baudelaire, Balzac, Nadar and other great Romantics Downie delights in the city's secular romantic pilgrimage sites asking , Why Paris, not Venice or Rome—the tap root of "romance"—or Berlin, Vienna and London—where the earliest Romantics built castles-in-the-air and sang odes to nightingales? Read A Passion for Paris: Romanticism and Romance in the City of Light and find out."
My Two Cents:
Part love letter to Paris and part literary romp through that city, A Passion for Paris" takes a look at the history of the Romantic movement and its inextricable link to the city of Paris. With all of the big names of the Romantic movement working and playing in Paris, it works well to talk about both the city and the movement together! The author is very knowledgeable on the Romantic movement and makes it very exciting for the reader to follow him through that city on the trail of some of the biggest names in the Romantic movement.

Paris is someplace I've always dreamed of going and one thing that I really like this book is that the author gave great insight into what the city was like during the Romantic period and why it drew so many big names of the movement to its streets and parks. The author's passion for the topic certainly shines through and it rubbed off on me as the reader! I love just about any book on traveling and what makes this book unique is that it takes you on a trip to Paris through a very specific lens. You can see what the big authors of the Romantic movement or seeing and what they were doing. It's very cool!

I would recommend this book to anyone who has an interest in Paris or getting a behind the scenes look at the Romantic movement. Overall, I really enjoyed this book.