Title: Gravel on the Side of the Road
Author: Kris Radish
Format: Paperback
Publisher: Sparks Press
Publish Date: July 22, 2014
Source:
BookSparks Summer Reading Challenge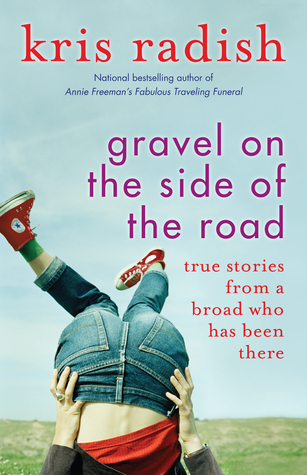 What's the Story?:
From Goodreads.com: "
A woman who worries about carrying a .38 special in her purse, nearly drowns in a desert canyon, flies into the war in Bosnia, dances with the FBI, tells Geraldo he shouldn't put guests in hotel rooms with rats and spends time with murderers, has more than a few stories to tell.

Gravel on the Side of the Road-True Stories From a Broad Who Has Been There is a daring and revealing adventure itself.

Beloved novelist Kris Radish returns to her non-fiction beginnings with her first, but not last, book of autobiographical essays. Her writing career has spanned four decades and has included award winning newspaper work, magazine features, a national syndicated column, eleven books and enough stories and adventures to fill up many more.

Radish's talent for telling it like it is, sharing the wit and wisdom of a life lived mostly on her own terms and her keen sense of humor are highlighted in these stories- some of them old- some of them new, but all of them a glimpse into worlds many never dare to enter. This author always lives in a world where nothing is sacred but the sweet emotions of the heart.

Kris is definitely a broad who has been there."
My Two Cents:
Before reading this book, I hadn't read anything by Kris Radish and I am not really sure that I had heard about any of her books but she has a wide variety of fiction books in her collection. This book is a collection of non-fiction stories from her own life, which marks a return to her roots as a journalist. The stories cover a wide variety of topics. She has had a lot of different experiences that definitely make for some interesting stories.

The collection was very interesting. I don't read a lot of short stories but when I do get around to reading them, I really like them. Some of the stories are very touching. She tells this one amazingly touching story about a young girl struggling with a terminal disease that was just so raw and real that it really pulled me deeply into the story that she was telling.

The interesting thing about this book is that the stories were not really told in chronological order. It made it a little bit hard to follow as some of the short stories are really short and sometimes feels like a sort of "slice of life" story. The order also makes it feel a little bit uneven in some portions as the writing style changes and matures within different stories. Overall, this was an interesting collection.