Title: Lola and the Boy Next Door
Author: Stephanie Perkins
Format: Hardcover
Publisher: Dutton
Publish Date: September 2011
Source: Owned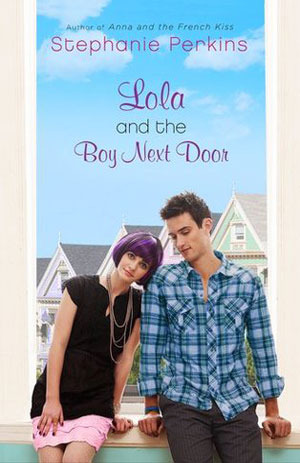 What's the Story?:
From Goodreads.com: "
Budding designer Lola Nolan doesn't believe in fashion...she believes in costume. The more expressive the outfit--more sparkly, more fun, more wild--the better. But even though Lola's style is outrageous, she's a devoted daughter and friend with some big plans for the future. And everything is pretty perfect (right down to her hot rocker boyfriend) until the dreaded Bell twins, Calliope and Cricket, return to the neighborhood.
When Cricket--a gifted inventor--steps out from his twin sister's shadow and back into Lola's life, she must finally reconcile a lifetime of feelings for the boy next door."
"Lola and the Boy Next Door" is a great contemporary YA love story. Lola has always marched to the beat of her own drum. She tries not to let things bother her. She has a rebel boyfriend and believes that every day is a good day to dress fabulously. When Cricket, her next door neighbor, comes back to town, Lola realizes that she is still sort of hurt by what happened before he left and she's not sure that she can combat all of the different feelings that she is going through.
I really enjoyed this book. I loved the love story between Lola and Cricket. It was very interesting to me since they had such a long back story together. Cricket and Lola used to be really close. Cricket's twin sister was always sort of jealous of their relationship and had a hand in making it so it seemed like Cricket meant to hurt Lola when they were younger, which totally broke up their relationship. You can see that this story is so much more than just girl meets boy, which I definitely appreciated. There is a love triangle present in this book, which wasn't really my favorite but most of the focus ends up being on the relationship building between Lola and Cricket, which I really liked.
This book is sort of a companion book to "Anna and the French Kiss" but you can totally read this one first if you want, although it may ruin the ending of the first book for you because you will find out what happens after the book ends. I did like that we got to find out what ever happened to Anna and Etienne after "Anna and the French Kiss" ends. I loved both of those characters.
This book is great when you are looking for a light read with a lot of great characters and a good love story!