Title: Lies and Other Acts of Love
Author: Kristy Woodson Harvey
Format: Paperback
Publisher: Berkley
Publish Date: April 5, 2016
Source: Publisher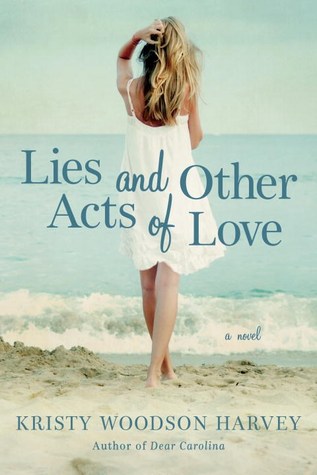 What's the Story?:
From Goodreads.com: "After sixty years of marriage and five daughters, Lynn "Lovey" White knows that all of us, from time to time, need to use our little white lies.

Her granddaughter, Annabelle, on the other hand, is as truthful as they come. She always does the right thing—that is, until she dumps her hedge fund manager fiancé and marries a musician she has known for three days. After all, her grandparents, who fell in love at first sight, have shared a lifetime of happiness, even through her grandfather's declining health.

But when Annabelle's world starts to collapse around her, she discovers that nothing about her picture-perfect family is as it seems. And Lovey has to decide whether one more lie will make or break the ones she loves . . ."
My Two Cents:
"Lies and Other Acts of Love" is the story of lies that we tell both ourselves and those that we love in order to protect them and their feelings. The book is told in alternating perspectives between Lovey and her granddaughter, Annabelle. Lovey seems to have the perfect marriage and close family but there is something behind what seems like such a strong union. Annabelle randomly married a guy after knowing him for a short amount of time. As the book unfolds, we find out that things are not always what they seem.

The writing of the book was good! I really liked how the book was told from two different perspectives. I was interested in both Lovey and Annabelle's story. They are both so different but there is an underlining similarity in how they are hurt and how they try to hide their pain. The author did a great job of just giving a little bit of detail that kept me reading. There is a huge twist in Lovey's story (so cannot give it away) that blew me away.

The characters were fantastic! Even the secondary characters were really well drawn. I felt for Lovey. She's a very traditional woman and believes that appearances matter greatly. Not only that but she wants to make sure that her family sticks together and all feels loved. It's a lot of pressure. Although I liked Annabelle, I was especially drawn to Lovey. The twist in her story is so huge and she's such a great character that you don't want her to go through anything bad.

Overall, this is a great story that made me think about all of the things that we do to save face and more importantly, to save feelings.